Norwalk Hospital Transformation
Join us on our journey as we enhance Norwalk Hospital
Norwalk Hospital is undergoing exciting changes to bring better care to you, your family, and the Norwalk community. Follow along as we enhance and expand care at your community hospital.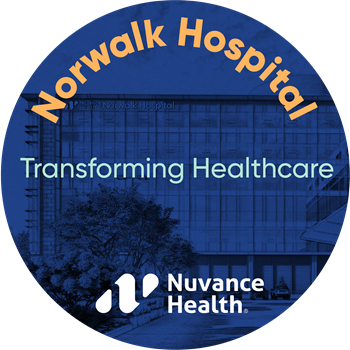 Our latest updates are below (as of February 2023).
We are expanding access to primary and specialty care in our region.
Norwalk Hospital is dedicated to meeting the ever-changing needs of our community by evolving the way we care for you and your family. By making strategic investments in new facilities, staff and the revitalization of our current services, we'll enhance access to primary and specialty care in the Norwalk community.

Norwalk Hospital's transformation plan emphasizes growth and flexibility, empowering our physicians and staff to better meet Southern Connecticut's healthcare needs. We'll accomplish this by enhancing current services, adapting to the current and future needs of our community, and leveraging the strengths of the entire Nuvance Health system.
Invest
Thanks in part to a generous gift by Carol and George Bauer, Norwalk Hospital has begun planning the construction of a new Patient Pavilion. This is the largest expansion project in the hospital's history.
The new Pavilion will include a contemporized Family Birthing Center with 17-beds in the postpartum unit, a Level III Newborn Intensive Care Unit, a well-baby nursery and OB/GYN hospitalists, all staffed with care teams from Connecticut Children's, the only dedicated pediatric health system in Connecticut.
Our new and renovated outpatient facilities will increase access and convenience. The new outpatient locations and services include:

Imaging & Radiology
Breast Center (including Breast Surgery)
Primary Care
Metabolic Medical Weight Loss
Norwalk Surgical Center
Outpatient Gastroenterology
Internal Medicine
General Surgery
Behavioral Health Services


Enhance
The transformation plan will also support renovations throughout Norwalk Hospital and the McGraw Pavilion to revitalize our current spaces.
We are adding primary care and specialty care physicians and care sites to make seeing Norwalk Hospital doctors more convenient. The plan will expand patient access through direct book appointments, telehealth and extended hours during nights and weekends.


Adapt
Norwalk Hospital plans to co-locate inpatient behavioral health services in a state-of-the-art, therapeutic environment within Nuvance Health at Danbury Hospital.
Creating a dedicated behavioral health pod in the Norwalk Hospital Emergency Department is planned for psychiatric care and observation.

Regulatory Updates
On December 14, Connecticut's Office of Health Strategy (OHS) held a hearing on Norwalk Hospital's Certificate of Need application to co-locate behavioral health services in Danbury Hospital. We are awaiting a decision from the state and all services remain open.