Nuvance Health offers 3D mammography (also known as breast tomosynthesis) — the latest advancement in breast imaging technology — in a comfortable, relaxing settings through western Connecticut and the Hudson Valley.
Early detection of breast cancer means saves lives.
3D mammography allows radiologists* to view the breast in extremely thin layers, slice by slice and from multiple angles. These high-resolution images have been shown to significantly improve cancer detection and reduce radiation exposure. 3D mammograms are most helpful for women with dense, fibrocystic breasts as well as those who have a higher risk for breast cancer due to genetic risk factors.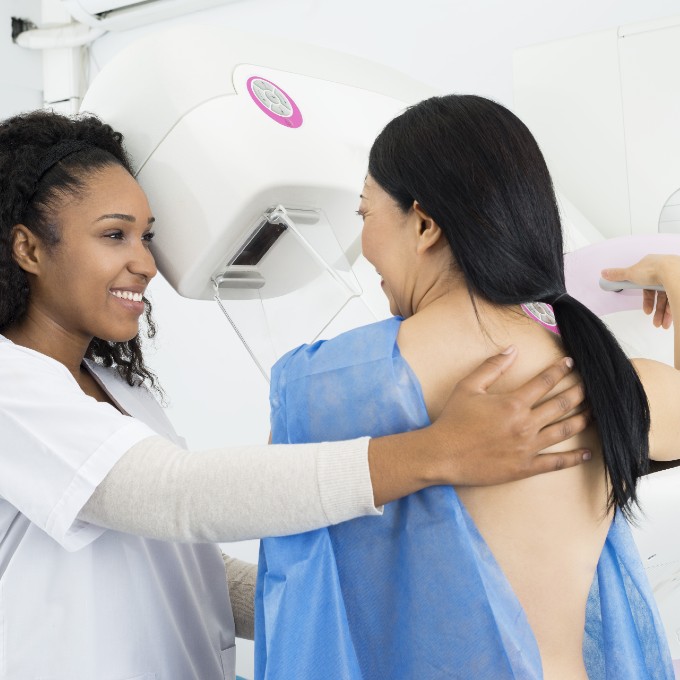 Why is breast density important?
Breast density is the percentage of glandular and fibrous tissue that exists in the breast. The volume and distribution of dense breast tissue plays a major role in the sensitivity of screening mammography as well as the individual patient's risk of developing breast cancer.
48% percent of women in the U.S. who have mammograms for the purpose of screening for breast cancer have dense breast tissue.
The risk associated with dense breasts is similar to that of a family history of breast cancer in a mother, sister, or daughter.
Women with extremely dense breasts are twice as likely to develop breast cancer as an average density woman.


If your mammogram should demonstrate a concerning shadow, the team may perform a biopsy. If cancer is found or possibly detected, care teams will help you gain quick access to breast surgeons at the Nuvance Health Cancer Institute.
FAQs
Who reads my mammogram – a general radiologist or a breast specialist?

A board-certified diagnostic radiologist with expertise and certification in 3D mammography and women's imaging. Many of our Nuvance Health locations, including

Norwalk Radiology and Mammography Center

, has fellowship-trained breast radiologists on the medical staff of Norwalk Hospital to interpret your breast imaging.

When will I know the results of my exam?

Immediately following your 3D breast imaging, a radiologist* will carefully evaluate the images and meticulously compare your current mammogram with prior exams to detect even slight changes. Results from a screening examination are typically available within a day or two and often on the same day.

If your examination is occurring due to a lump, breast pain, or other symptoms you will be informed of the results at the time of the examination and before you leave the facility.

You will also receive a letter informing you of your test results and breast density. Your physician will receive a detailed written report.

What if I have breast implants?

Mammography is safe for women who have breast implants. Additional views that gently 'displace' the implant away from the breast tissue provides for high quality diagnostic studies. Our expert technologists are trained to obtain these special images.

What is the difference between a screening and diagnostic mammogram?

A screening mammogram is your annual mammogram that is done every 1-2 years.

A diagnostic mammogram is performed to evaluate a specific area of interest in your breast. This maybe because your doctor or you have felt a lump, have localized pain or nipple discharge, or if a shadow is seen on your screening mammogram.

Is there an increase in radiation with 3D mammography?

Very low X-ray energy is used during the exam, or just about the same amount as a traditional mammogram done on film. However, the 3D mammography technology frequently leads to fewer repeat or additional images.
*In the spirit of keeping you well-informed, the physician(s)/individual(s) identified are neither agents nor employees of Nuvance Health or any of its affiliate organizations. These clinicians render services to Nuvance Health patients under an agreement with Nuvance Health. These clinicians retain independent medical judgment for all services rendered.