Pancreatic Cancer Research
Learn more about pancreatic cancer research at the Rudy L. Ruggles Biomedical Research Institute.
The Rudy L. Ruggles Research Institute at Nuvance Health conducts research on pancreatic cancer to improve early detection for high-risk patients.
The pancreatic cancer research team at Nuvance Health focuses on early detection for high-risk patients.
Current Challenges in Pancreatic Cancer
There are no blood tests or radiological imaging scans to detect pancreatic cancer before it has reached an incurable stage. After diagnosis, no tests are available to identify those patients who could benefit from chemotherapy, which has side effects. Another challenge in treating pancreatic cancer is assessing how well patients respond to treatment.
Identifying Biomarkers
Researchers are discovering new blood biomarkers unique to each patient to measure the presence or progress of pancreatic cancer. These biomarkers may aid in early diagnosis, prognosis and prediction of response to treatment.
Pancreatic Cancer Screening Study
Nuvance Health is conducting a clinical study to detect pancreatic cancer in high-risk patients. People over 50 years of age are at greater risk for pancreatic cancer in the first three years after a diagnosis of diabetes. This multidisciplinary, collaborative study involves primary care doctors, endocrinologists, gastroenterologists, radiologists, surgeons, medical oncologists and genetic counselors, all affiliated with Nuvance Health.
Researchers are assessing the use of MRI exams as a screening tool to detect pancreatic lesions. They are also investigating the newly discovered ncRNA circulating biomarker profile for screening of high-risk patients. Study participants donate a sample of blood every six months for three years.
Blood samples are banked in the newly developed biorepository at the Rudy L. Ruggles Nuvance Health Biomedical Research Institute. The blood-based diagnostic test will be used to identify patients who are at high risk of pancreatic cancer and should undergo regular screenings.
Participating in Pancreatic Cancer Research
The Rudy L. Ruggles Biomedical Research Institute works closely with Nuvance Health oncologists to find research participants. If you have pancreatic cancer, ask your Nuvance Health care team if you are eligible for any research studies. Learn more about the Nuvance Health Cancer Institute™.
The Pancreatic Cancer Research Team


Richard Frank, MD, Director of Clinical Cancer Research
Dr. Frank is a physician-scientist and clinical researcher who has led basic science and clinical research projects in a variety of oncologic disciplines. During the past five years, he has devoted his research efforts to high-impact translational projects in pancreatic cancer. He has authored several investigator-initiated clinical trials, started and overseen a pancreatic cancer patient biobank with more than 2,100 stored samples. He has also led a laboratory research group studying the role of extracellular vesicles in pancreatic cancer.

Shatovisha Dey, PhD, Lead Research Associate
Dr. Dey is a scientist with specialization in molecular genetics and oncology. She completed her doctoral degree in Molecular Genetics at the University of Arkansas in 2011 and continued her research as a post-doctoral fellow at the Indiana University School of Medicine. She has led several basic and translational research projects during her research tenure, where her work broadly focused on understanding the regulatory mechanisms of pancreatic ductal adenocarcinoma, pancreatitis, breast cancer and small lung squamous cell carcinoma utilizing in-vitro and in-vivo disease modeling, and system-wide approaches. Her research endeavors resulted in several peer-reviewed publications and patent applications. In addition to research, Dr. Dey has independently taught undergraduate and graduate courses at the University of Arkansas, and mentored lab personnel in her research labs.
At Nuvance Health, Dr. Dey works as a Lead Research Scientist in the Pancreatic Cancer Research group. Her research interests lie in identifying novel exosomal biomarkers for early detection and treatment of pancreatic cancer and studying the mechanisms associated with these molecules to validate their suitability in targeted therapeutic approaches for the disease.

Tammy Lo, MSN, ACNP-BC
Tammy is an acute care nurse practitioner and is board certified by the American Nurses Credentialing Center (ANCC). She completed her masters of science in nursing from Yale University in 2009. She joined the Cancer Research team at the Whittingham Cancer Center in 2017, with a primary focus on screening of pancreatic cancer in hereditary high-risk individuals as well as individuals with new-onset or deteriorating diabetes mellitus. She is also involved in other pancreatic cancer clinical trials and works closely with an interdisciplinary team of clinicians and research scientists. Tammy has contributed to several peer-reviewed publications and was awarded the Marilyn Edmunds Journal for Nurse Practitioners Writing Award in 2019.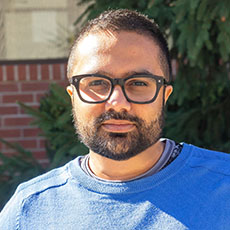 Deep Pandya, MS, Lead Bioinformatics Scientist
Deep is a researcher in bioinformatics and clinical statistics with 12 publications and a decade of experience. He has expertise in analysis of all NGS data types as well as proteomics data. His recent focus involves analyzing and predicting biomarkers for early detection of endometrial, ovarian cancer and pancreatic ductal adenocarcinoma using all molecular data types and novel predictive algorithms.
Publications
Kandiah J, Lo T, Dugho J, Melchior L, Krebs T, Anand N, Ingram S, Krumholz P, Pandya D, Trinidad A, Dong X, Seshadri R, Bauman J, Lee R, Frank RC. A Community- Based Pancreatic Cancer Screening Study in High-Risk Individuals: Preliminary Efficacy and Safety Results, 2022
Alpertunga I, Sadiq R, Pandya D, Lo T, Frank RC, et al. Glycemic control as an early prognostic marker in advanced pancreatic cancer. Frontiers in Oncology: Cell Metabolism, in press, 2021
Pandya D, Shah M, Kaplan F, Martino C, Levy G, Kazanjian M, Batter S, Martignetti J, Frank RC. Treatment-emergent neuroendocrine prostate cancer with a germline BRCA2 mutation: identification of a candidate reversion mutation associated with platinum/PARP-inhibitor resistance. Cold Spring Harb Mol Case Stud. 2021 Feb 19;7(1):a005801. doi: 10.1101/mcs.a005801. PMID: 33608381
Martino C, Pandya D, Lee R, Levy G, Lo T, Lobo S, Frank RC. ATM-mutated pancreatic cancer: Clinical and molecular response to gemcitabine/nab-paclitaxel after genome-based therapy resistance. Pancreas 49: 143-147, 2020
Martino C, Lobo S, Pandya D, Frank R. Developing a specific and sensitive method for extracellular vesicle isolation and small-RNA library preparation for next-generation sequencing. [Abstract] New York Academy of Sciences, Conference on Extracellular Vesicles in Diagnostics and Therapeutics, 2019
Frank RC, Dugho J, Lo T, et al. A Pancreatic cancer screening study in high-risk individuals including those with new-onset diabetes. [Abstract] 5th NCI Pancreatic Cancer Symposium, Bethesda MD, 2018
Discover More About Nuvance Health Research Initiatives: