Patient Pavilion at Vassar Brothers Medical Center
Enhancing How Healthcare is Experienced
This extraordinary 752,000-square-foot addition to our campus, funded in part by the generosity of the community, allows us to dramatically enhance how healthcare is experienced here. With its distinctive shape that follows the aesthetic of the Hudson River, the new Patient Pavilion adds an eight-level addition to the existing Vassar Brothers Medical Center (VBMC) in Poughkeepsie, NY.
The Patient Pavilion at VBMC
The Patient Pavilion features amenities that provide the caliber of healthcare and the environment expected by sophisticated modern-day patients and their families. The spacious building includes:
263 private rooms on four floors
30 intensive care rooms
13 surgical suites
Emergency and trauma center with 66 exam rooms and ample parking for ambulances and the public
Flexible conference center that accommodates up to 300 people for use by the public and service groups
220-seat cafeteria with outdoor dining
Green roofs to assist in water management and patient views
Rooftop helicopter landing pad
We are immensely grateful to the donors whose generous gifts helped make this vision a reality. Please consider making a gift of your own in support of this important expansion of care to our community.
The Patient Pavilion features:
Main lobby
From the time you enter at any entrance, you will find a well-appointed, advanced medical facility. Starting at the main lobby and the concierge desk and further in, no detail has been left to chance. On the ground floor you'll find:
Four dedicated visitor elevators that run from the underground parking lot to the patient floors
Designated meditation room, gift shop and access to an outdoor public terrace
Two-level open atrium that overlooks the Hudson River
Footbridge over Livingston Street that connects to the Emergency and Trauma Center.
Located along the main concourse is the O'Shea Conference Center, which is designed as a combination medical conference center, lecture hall, public events space and staff auditorium. It can accommodate up to 300 people and includes a reception area for pre- and post-event gatherings.
Farther along the concourse is the 220-seat Panichi Family Café. It provides access to the Public Terrace, which offers outdoor dining, exterior seating and paths to stroll during warm weather. Every design element keeps patient care and healing in mind. The Café offers:
Stations for hot food and sandwiches
Pizza oven
Soup and salad bar
Coffee and espresso bar
Emergency and Trauma center
The Anna-Maria and Stephen Kellen Emergency Department is nearly 58,000 square feet. It has its own entrance, spacious lobby, 66 exam and treatment rooms as well as including three trauma rooms and a pediatric-friendly area.

An ambulance garage with high-speed rolling doors is the entrance for emergency services providers. In addition–and a first for the region–there is a helicopter landing pad on the roof that allows for high-speed elevator access to the trauma center.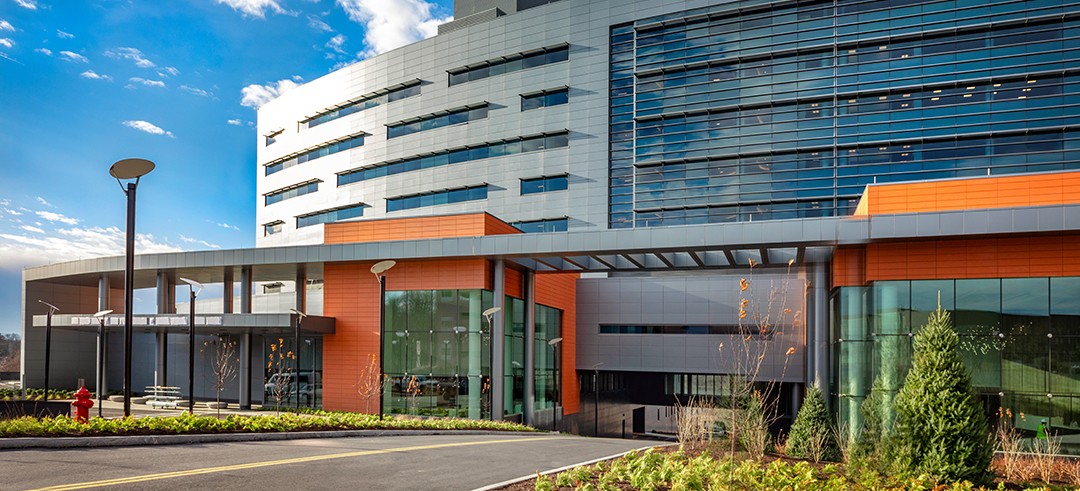 The rooms are strategically designed to increase visibility and access to care for our sickest patients. Placing the patient in the center of the room adds flexibility by freeing the bed from the wall. Articulated booms on each side allow for easy connection to critical medical equipment and patient monitoring.
Each room has a bathroom, internal blinds for privacy and expansive views of the City of Poughkeepsie to the east and the Hudson River to the west.
Surgical center
On the north end of the second floor is the surgical center, a network of 13 surgical suites equipped to serve different functions, including heart, brain, spine, knee and hip surgeries. There are two robotic operating suites and a hybrid suite for specialty cases.
Also included in the surgical center is a post-anesthesia care unit with 24 bays and a pre- and post-operative area with 38 rooms. This area is accessible from a first floor waiting room, so you can greet your loved one after their surgery.
Acute care floors
The beautiful river and garden views of the Poughkeepsie area are unparalleled on floors four through seven. These floors feature a total of 263 spacious, all-private rooms with bathrooms equipped with walk-in showers. The rooms offer a peaceful and serene atmosphere that intentionally includes patients' loved ones to help support healing and recovery.
Each floor has a different color scheme and a beautiful floor-to-ceiling mosaic near the public elevators to help you easily find your location. Beyond the elevators facing the Hudson River are spacious well-appointed visitor lounges.