Northern Dutchess Hospital General Information
Campus Information
Find details below about Northern Dutchess Hospital
General Information for Northern Dutchess Hospital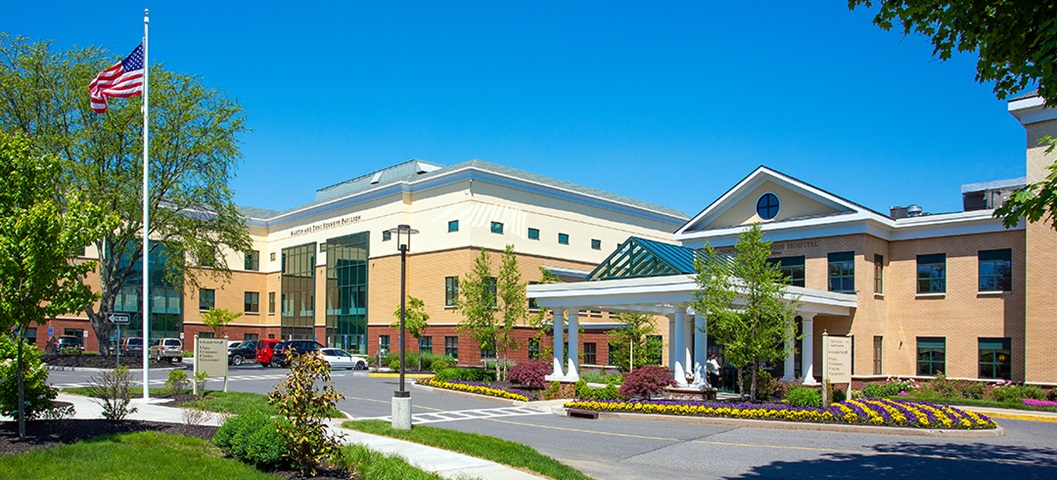 We welcome our patients and visitors. Use the following information to help you plan your trip to Northern Dutchess Hospital:

Visitor hours and guidelines
To ensure a healthy and safe environment for our patients, staff and visitors, Nuvance Health has a restricted visitation policy. These guidelines will help you prepare for your next visit to Northern Dutchess Hospital.

Inpatient Care: 8am to 8pm daily

Open Entrance: Main Front Entrance
Dining and cafeteria information
You'll find the cafeteria in the lower level of the hospital. Through a partnership with our registered dietitians, the cafeteria satisfies a variety of dietary needs while providing great-tasting meals for patients, staff and visitors alike. Our chefs are trained at premier culinary institutes and produce high-quality nutritious meals, using fresh produce from local farms.

Hours: Sunday - Saturday: 7 am - 6:30 pm
Phone: (845) 871-3609
WiFi
We are pleased to offer complimentary WiFi access to our guests throughout the hospital. When you log on you'll be presented with a disclaimer screen that prompts you to enter your email address to gain full access.
Parking and campus information
Please use our valet parking service to easily access our main entrance. You can access the Emergency Department and Neugarten Family Birth Center from the north side parking lots. We also offer electric vehicle charging stations.
Accessibility
To ensure effective communication with patients and their caregivers, learn more about language services.
We are committed to patients and their family members feeling valued and respected. Learn more about health equity, diversity and inclusion.
Spiritual care
We support patients and their families in finding spiritual strength and hope. Find out more about spiritual care services.
Local accommodations
If you travel from out of town and need accommodations, please contact:
Awards and Accreditations
'A' Safety Grade — Spring 2022, Spring/Fall 2021, Spring/Fall 2020, Fall 2019
The Leapfrog Group
Five-Star Rating — 2022, 2021

Centers for Medicare & Medicaid Services
Vizient Bernard A. Birnbaum Quality and Accountability Award — 2022
Vizient

MBSAQIP Accredited Bariatric Center

—

2019-2023

American College of Surgeons & American Society for Metabolic & Bariatric Surgery

National Diabetes Prevention Program Full Plus Recognition — 2022
Centers for Disease Control and Prevention

Gold Seal in Total Joint Replacement, Knee

—

2022
Joint Commission


Gold Seal in Total Joint Replacement, Hip

—

2022
Joint Commission
High Performing in Hip Fracture

— 2022-

2023
U.S. News and World Report
High Performing in Knee Replacement

—

2023-2024, 2022-2023, 2020-2021
U.S. News and World Report
High Performing in Hip Replacement

—

2022-2023, 2020-2021
U.S. News and World Report


High Performing in Chronic Obstructive Pulmonary Disease (COPD) — 2022-2023
U.S. News and World Report


Re-Accredited — 2022-2025
Commission on Accreditation of Rehabilitation Facilities (CARF)

Lown Institute Hospitals Index

—

June 2022

National Value of Care Grade: A

National Patient Outcomes Grade: A

National Clinical Outcomes Grade: A

National Cost Efficiency Grade: A

Designated Primary Stroke Center

—

2022

New York State Department of Health

Get With The Guidelines® Stroke Silver Plus

—

2021

American Heart Association/American Stroke Association

Get With The Guidelines® Stroke Gold Plus

— 2023,

2022

American Heart Association/American Stroke Association

Center of Excellence in Robotic Surgery

—

2022-2025

Surgical Review Corporation

Robotic Surgeon of Excellence, Dr. Brian Binetti

—

2022

Surgical Review Corporation

Re-Accreditation

—

2020

Hyperbaric Unit by the Undersea & Medical Society