Created in response to astonishing upward trends in obesity and related diseases, Plow to Plate is a program that advocates healthy food as a direct path to disease prevention while promoting the local agricultural economy. Plow to Plate delivers a fully integrated, healthful food service program to patients, staff and the community, using fresh produce from local farms.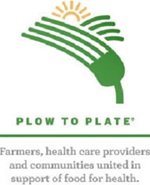 Plow to Plate was born from the work of New Milford Hospital executives, area physicians, farmers and town officials, in collaboration with the hospital's dining services partner, Unidine Corporation. The hospital itself became a model of change by transforming its Dining Services, eliminating processed and fried foods, and training kitchen staff to cook from scratch and procure local produce when possible.
Weekly Menu
Meals are served Monday through Friday, 7am - 6:30pm and weekends and holidays, 7am - 2pm.
Community Menu - OrderIn
With hospital access currently limited due to COVID-19, the Plow to Plate Café at New Milford Hospital, in cooperation with Unidine Corporation, is putting the finishing touches on their plan to offer the regional community the popular Senior Suppers as well as lunch and dinner menus for curbside pickup Monday through Friday. Plow to Plate has long-served as a nutritional dining destination to residents in the surrounding area and now residents can enjoy the healthy meal offerings in a safe and socially distanced manner.
To place your order, simply call (860) 210-5011. Orders typically will be ready for pick up within 30 minutes of placing your order. When coming to pick up your order at New Milford Hospital, park in one of the 6 clearly marked "Food Service Pick Up" spaces and follow the instructions on the sign. A dining service representative will then bring your order out to you.
Founders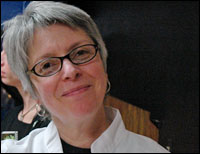 Marydale DeBor, JD
As Director of Planetree at New Milford Hospital, Marydale led the change in its food service that now serves as a national model, working with local farmers and a major dairy co-op.

Chef Anne Gallagher
A graduate of Natural Gourmet Culinary School in New York City, Chef Anne and Dr. Diane led the youth programs of Plow to Plate.



Diane D'Isidori, MD
Known as our community's "pediatrician at large" Dr. Diane is a public health leader who focuses on the critical intersection of the environment, diet and health in support of children's health.
The Plow to Plate initiative began with the formation of a community coalition with a broad range of members dedicated to the notion that individual and community well being depends upon a sustainable local and regional food system. Coalition members work together to create and sponsor activities, ongoing programs and individual projects that promote "health" in the broadest sense possible.


Senior Suppers

New Milford Hospital, in cooperation with senior centers in New Milford, Sherman, Bridgewater, Roxbury, New Fairfield, Kent, Washington and Brookfield is now offering Senior Suppers Monday through Friday in the hospital's dining room.


Bring your Senior Center I.D. and for only $5, you can enjoy a delicious, well balanced meal, surrounded by nice people. After dinner, we invite you to stay a little longer for conversation, entertainment and special events.


Senior Suppers at New Milford are served Monday – Friday from 4 – 6 p.m. Breakfast and lunch are served Saturday and Sunday from 7am – 1pm. Reservations are mandatory, so please call (860) 210-5011 no later than 2 p.m. on the day that you wish to attend.

March Farm CSA

Community Supported Agriculture (CSA) is a relationship between a farm and you the customer. By selling membership in advance of the growing season, CSA's reduce the burden of up-front costs for the farmer. Your membership fees provide a degree of cash flow to purchase seed and fertilizer, repair buildings and equipment & pay weekly labor bills before the season starts. Your commitment to a share of the upcoming growing season cannot be appreciated enough; as we will strive to provide ultra-fresh produce with all the flavor & vitamin benefits, exposure to different produce items and interesting ways to prepare them, designated farm visits and tours to see how your produce is grown and the development of a relationship with the farmers growing them.

The March Farm CSA program will span 16 weeks starting in June and running thru September. Pick up day will be Thursday and food will be held until 5 p.m. Friday in the New Milford Hospital Café. Seasonal farm grown produce planned for the 2017 growing season include cherry tomatoes, asparagus, English cucumbers, kale, string beans, cherries, strawberries, nectarines, sweet corn, carrots and more. The cost for this program is $525 (approx. $32.80 per week). Please contact Michele.Macdonnell@nuvancehealth.org or call 860-210-5362 for more information

Let's Get Cooking Workshops

The Diebold Family Cancer Center presents 'Let's Get Cooking', a plant–based cooking workshop for cancer survivors


'Let's Get Cooking' workshops are designed to answer the practical questions and provide the what, how and why answers. 'Let's Get Cooking' is designed to meet the ongoing nutritional and weight management education needs of our survivors and are supported by funds from the Diebold Family Cancer Center and New Milford Hospital Foundation. This program is offered quarterly, free of charge, in the New Milford Hospital Café.

Community Health Forum

Attend a Community Health Forum at New Milford Hospital, an awareness and education program connecting the ideas of healthy food choices and disease and cancer prevention habits and lifestyles. Information and resources are available to inspire changes in behavior.

New Milford Farmers Market

Visit the New Milford Farmers Market, Saturdays from 9am – 12pm, May through October, on the New Milford Green for locally grown food and goods.


Youth Chef Advocacy Program

Understanding that our community's youth would be a strong voice in advocating for Plow to Plate's mission, chef Anne Gallagher and Dr. Diane D'Isidori created the Youth Chef Advocacy Program. This 4-month program runs weekly during the CT growing season and is taught by Chef Anne and Dr. Diane. The program serves to enlighten middle and high school students about the critical role sustainable and local food systems play in their individual health and the well being of their community and the environment. It teaches them professional culinary skills to create meals using seasonal, local ingredients, and supports them in advocating for sustainable food systems and CT farmland preservation.


Since 2008, the Youth Chef Program has graduated over 60 youth chef advocates from New Milford and Brookfield and has helped to educate the community about benefits of locally grown food.

Eating Well Program

Nutrition is an important part of cancer treatment, because cancer and cancer treatment can affect the body's ability to tolerate certain foods. Using nutrients and good nutrition is not only important, it can help cancer patients feel better and stay stronger.


With generous support from our community, New Milford Hospital's 'Eating Well' program provides patients at the Diebold Family Cancer Center with the nutritional benefits of organic Plow to Plate eating, free of charge. The program allows Diebold Family Cancer Center patients to enjoy a free Plow to Plate meal after each chemotherapy or radiation therapy treatment, with the option of eating in our Hospital café or taking their meals home.

2015 Community Service Award


At its 97th Annual Meeting in June 2015, the Connecticut Hospital Association (CHA) recognized New Milford Hospital with a 2015 Connecticut's Hospital Community Service Award. Sponsored by CHA and the Connecticut Department of Public Health, the Connecticut's Hospital Community Service Award recognizes outstanding achievement in community service. New Milford Hospital is being recognized for its Plow to Plate program.



Planetree Award


New Milford Hospital earned two national awards for its innovation and leadership in promoting wellness and prevention to help patients and community residents eat healthier foods. The first award, the 2009 Spirit of Planetree Award, recognizes the Hospital's patient-centered approach to providing care in the category of Nutritional and Nurturing Aspects of Food. The second award, the Glynwood "Good Food for Health" Harvest Award also recognizes the Hospital-led Plow to Plate coalition and Unidine Corporation, which have collaborated to set a standard in the sustainable food movement for Northwest Connecticut.



Glynwood Award


Glynwood, the not-for-profit organization whose mission is to save farming in the Northeast, created the Harvest Awards in order to highlight innovative work being done to increase access to fresh, locally-produced food and to recognize leaders across the country who support regional agricultural systems. New Milford Hospital earned a 2012 gold level Connecticut Quality Improvement Award (CQIA) Innovation Prize for its success at building and sustaining a healthy dining experience for its patients, employees and the community.



2012 Gold Level CQIA Innovation Prize

New Milford Hospital received the 2012 Gold Level CQIA Innovation Prize for its success at building and sustaining a healthy dining experience for its patients, employees and the community. The honor was presented at the Conference of the Connecticut Quality Improvement Award Partnership in June 2012. New Milford Hospital's award recognizes its healthful culinary achievements following a six-year journey that has helped the community hospital achieve patient satisfaction scores among the nation's best for overall meals and quality of food.

Think about the origin of the term "Plow to Plate," New Milford Hospital's sustainable foods dining program. Implied in the name is a direct relationship in which the food consumed goes from the farm field to the dinner plate, with no middlemen in between, other than gifted chefs.



Local, chemical-free and sustainable, this truly wholesome system is both healthy and medicinal for those who are ailing. But the program is about more than treating and feeding the sick; it's also about raising awareness and support for public health, and several local farmers contract with the New Milford Hospital to supply the program, including:

New Milford Hospital's tower garden brings food to new heights

When the dining services director lost his garden space at New Milford Hospital, he discovered a new location right on the roof. Chef Kerry Gold, director of the hospital's dining service and Plow to Plate program, installed six aeroponic tower gardens in May on the rooftop deck along the walkway to the new emergency department.

Read the full article at NewsTimes.com

Two Connecticut Hospitals Put Fresh Food at Forefront of Wellness Initiatives

Fresh food is the best food, the best tasting and the best for you. With the advent of the slow food, farm-to-table, local and organic movements, the American food culture seems to have embraced this notion. Fresh, nutritious food prepared smartly is the key to a healthy lifestyle; any doctor, nutritionist or dietician will tell you that. It's interesting, then, that the concept of hospital food—the one place centered on health—has such negative connotations.

Read the full article at ConnecticutMag.com



New Milford Hospital believes food is medicine

It may be one of the smaller hospitals in the region, but for the past decade, New Milford Hospital, a member of the Western Connecticut Health Network, has taken a leadership position in community advocacy, especially with regard to the quality and sustainability of the food offered within its walls.

Read the full article at NaturalAwakenings.com



Not your grandfather's hospital food: Health systems make meals part of population health

Visitors to New Milford (Conn.) Hospital don't need to ask for directions to the hospital's newly renovated cafeteria because the healthy food eatery opens right into the main lobby. The lobby and cafeteria were relocated and redesigned when the 85-bed hospital completed renovation of its emergency department in late 2014. Hospital leaders set out to make the cafeteria a focal point of nutritional wellness for the entire community.