The Goldstone Caregiver Center at Danbury Hospital
Providing support to caregivers
Contact Us
The Goldstone Caregiver Center, located in Danbury Hospital's Buck Pavilion, provides support to caregivers who are the primary source of caring for a family member of friend.
The Goldstone Caregiver Center
As a caregiver, you have likely struggled physically, emotionally or spiritually at some point during your journey. Recognizing that healthy self-care is essential, the Goldstone Caregiver Center provides support to caregivers in a variety of ways.
The Center is available to those who are the primary source of caring for a family member or friend. We offer: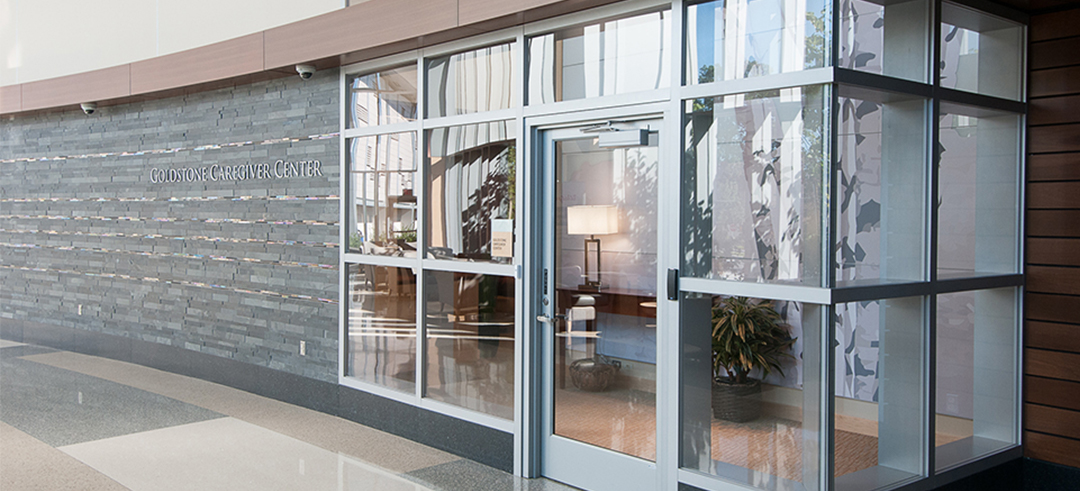 Amenities
We provide a comfortable place to rest, reflect and recharge. Here, you'll find:
Quiet rooms for respite or private conversation
Kitchenette
Computer workstations for internet or email access, copier, telephones and fax services
Access to a library specializing in caregivers' resources
Services
We offer professional counseling from a licensed clinical social worker and:
Volunteer Caregiver Coaches trained to support families
Support groups
Educational programs
End-of-life support
Listings of community resources


COVID-19 Modifications
We invite you to attend our programs regardless of who you care for. While all programs listed have traditionally taken place at the Goldstone Caregiver Center located at Danbury Hospital, we are now providing our programs through Zoom during the COVID-19 pandemic.  We also welcome New Milford and surrounding community members.
Support groups
You may benefit from:
Caregiver Support Group: Being a Caregiver can be incredibly rewarding. It can also be one of the most difficult and isolating times a person can go through. If you are caring for a family member and have experienced frustration, sadness, guilt or anxiety through your caregiving journey, you are not alone. Take the opportunity to meet other caregivers to share your experiences and learn strategies to reduce your stress. Please contact Miranda Dold, LCSW at (203) 739-4921 or miranda.dold@nuvancehealth.org to learn more.
Grief Recovery Method® Grief Support Group: This group meets for eight weeks and offers a step-by-step action program for moving beyond death, divorce and other losses. Group members are expected to attend all sessions. To register or for further information, contact Chaplain Beryl Knudsen, Certified Grief Recovery Specialist at (203) 739-7135 or beryl.knudsen@nuvancehealth.org.
Recorded Zoom programs
Please access these informative webinars at your convenience:
"How to Maintain Your Mental Health During COVID-19" by Thomas Burr of the National Alliance on Mental Illness (NAMI)
"COVID-19 and Caregiving Webinar" by the Alzheimer's Association
"Palliative Care During the Pandemic" by Karen Mulvihill

"Long-Term Care Asset Protection: How to protect your life savings and lifestyle" by Thomas Murphy and Michele Murphy, Danbury Elder Law, Estate Planning and Probate Attorneys

"Protect Yourself with Trusts: How to protect assets, avoid probate, and maintain control" by Thomas Murphy and Michele Murphy, Danbury Elder Law, Estate Planning and Probate Attorneys

"Effective Strategies to Manage Stress, Anxiety and Burnout During COVID" by DeAnn Ewart, PhD, Clinical Psychologist

"Releasing Anxiety and Stress During Trying Times: How to Use "Tapping" to Lower Cortisol, Relax the Body, and Find Mental Peace" by Nick Ortner (NY Times Best Selling Author)
Hours
Gladstone Caregiver Center is open:
Monday through Friday: 9 am to 4 pm
Weekends and holidays: Closed