A Hudson Valley woman overcomes Hodgkin's lymphoma and breast cancer


Barbara Brickhouse, 68, found her calling by turning cancer into a mission to help others. The two-time cancer survivor found purpose and strength by having faith and surrounding herself with love and support.

Screening mammogram finds breast cancer
Barbara had been dealing with a painful hip for nearly two years and looked forward to having hip replacement surgery. Before having surgery, Barbara decided to get her screening mammogram out of the way. She faithfully got screening mammograms because breast cancer is in her family, and she did not want to delay it because of the surgery.


In July 2022, Barbara had a mammogram. The imaging showed a suspicious lump, but Barbara was not too worried because she had three breast biopsies over the years and they were always normal.
This was the second time Barbara found out she had cancer. She had Hodgkin's lymphoma in 2015.
"This time, I think I shed one tear but then focused on what I needed to do next because I wanted to be here for my four kids, granddaughter and two great-grandkids," Barbara said. "I had no doubts or reservations about having surgery and prayed for the best."

Surgery and radiation therapy for breast cancer
Two weeks later, Barbara had breast surgery at Vassar Brothers Medical Center, part of Nuvance Health.
Dr. Carinne Anderson, a board-certified and fellowship-trained breast surgeon, performed an oncoplastic lumpectomy. She used a Hidden Scar technique so that there was no visible scar, divet or area of volume loss from where her cancer was removed.
"We also performed genomic testing on the tumor, and as a result, we were able to spare her chemotherapy and its associated side effects," Dr. Anderson said.
Barbara was happy she did not need chemotherapy this time around.
"I had chemotherapy for Hodgkin's lymphoma and it was really tough. My bones hurt, I was very tired and I lost my hair," Barbara said. "But, I got through it, with the help of my family and some snazzy wigs."
Barbara's cancer care team was able to develop a personalized treatment plan where she could still get hip replacement surgery and then start radiation therapy for breast cancer.
Under the care of Dr. Maryann Mikucki, a radiation oncologist, Barbara had four weeks of radiation therapy to the right breast.
"Barbara had radiation therapy to her right neck when she had Hodgkin's lymphoma. We needed to modify her breast cancer treatment plan to account for her past treatments," Dr. Mikucki said. "Barbara tolerated the radiation well and maintained a positive attitude throughout her treatments."
"There were days that I did not want to get up and go for radiation treatments. But I knew I would be met with smiles, and 'How are you doing?' I looked forward to seeing the people," Barbara said about the staff at The Dyson Center for Cancer Care.
Nurse navigator Cheryl Hoffman played a big supportive role in Barbara's care and helped her navigate multiple pre- and post-operative appointments.
Licensed social workers Amanda Miller and Elizabeth Lawton assisted Barbara with grant applications, transportation reimbursement and support.
Barbara completed all her treatments by December 2022.
"Everyone made me feel like their number one patient," Barbara said. "I felt comfortable telling everyone how I was feeling and knew they had my best interests at heart."

Finding calling from cancer
Barbara is looking forward to traveling and fishing, two things she loves and had to put off because of her health challenges. She also loves crafting and had her own silk flower business after she retired from being Assistant Executive Director at the House of Hope, a domestic violence shelter in the Hudson Valley. She currently makes beaded jewelry.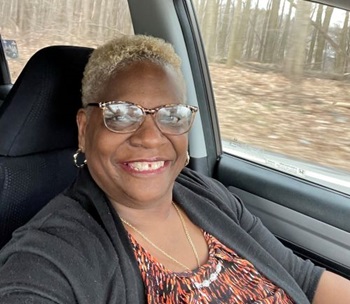 Barbara has a strong faith and said she feels like she went through so much for a reason.
"I am not one to talk about what I am going through, but now I feel called to give back," Barbara said.
In fact, she only told her kids and sister when she had Hodgkin's lymphoma.
Now, she is sharing her experience to help others.
She recently spoke at a Cancer Survivors Day event at Vassar Brothers Medical Center, and she speaks for her congregation at her church.
"Everyone needs encouragement, support and someone to listen to them," Barbara said.
Barbara said it also helps to have a support system and daily mantra to get through tough times. She is grateful for her kids who took turns staying with her. And, the proverb "You shall live and not die" kept her going.
In addition to being there for others, Barbara is appreciating everything in her life, big and small. From spending time with her family to being able to take care of her home in Beacon, New York where she has lived since 1976.
"I like the calm of being outside, sitting on my front porch and watching the wind blow through the trees," Barbara said.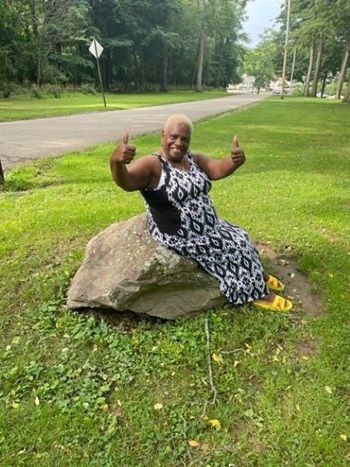 Disclaimer: Outcomes from cancer vary from person to person. No individual results should be seen as typical.