"When people find out I had breast cancer, most respond with, 'Men don't get breast cancer' or a faraway look trying to make sense of what I said." — Alan Smith
Up until two years ago, Alan Smith had no major health issues, which he attributes to good genetics.
"My parents were healthy, and I have no family history of cancer, heart disease or obesity," Alan said.
He also never smoked and stopped drinking alcohol decades ago.
Despite that, Alan said he was "not totally blindsided" when he was diagnosed with breast cancer.

"I was aware of changes occurring in my chest," Alan said. "I had a blow to my chest years ago and one area has always been tender. But this was different, and I had an inclination that something was probably wrong."
"Within 30 seconds, he said I should see a breast surgeon," Alan said.
"Immediately, I started having diagnostic tests, including a mammogram, MRI, PET scan and several breast tissue biopsies," Alan said. "I felt very good about the diligence from Nuvance Health. It was eye-opening to find out everything that goes into diagnosing breast cancer.
"I joke that I have had more mammograms than most of the women in my family and my female friends," Alan said.
On May 5, 2021, Alan was diagnosed with metastatic invasive ductal carcinoma of the left breast that had spread to the lymph nodes. He also had ductal carcinoma in situ (DCIS) in the right breast.
Alan's breast cancer care team gave him treatment options.
"I'm the type of person to do everything possible to make a problem better. So I wanted the Full Monty and trifecta of treatments," Alan said.
"I felt really good knowing my care team met during tumor boards to review my case. I benefited from the expertise of all different areas," Alan said. "I had tremendous faith in the evidence-based approach we were taking."
At Nuvance Health, breast cancer care teams include many subspecialists who collaborate closely. The team includes surgical oncology, medical oncology, radiation oncology, pathology, radiology, nurse navigators, physical and occupational therapists, genetic counselors, nutritionists, social workers, therapists and more.
The care team included Johanna Lee, a breast nurse navigator who said, "Alan had such a positive attitude throughout cancer treatment and his lovely wife was by his side."
"I took a book and tablet, watched Netflix, and tried to relax as much as possible," Alan said.
"Everyone at the cancer center was excellent," Alan said. "A special thanks to my primary infusion nurse, Penny Murphy, who provided excellent care during my sessions, explained the process in detail and answered in-depth any questions my wife and I had."
Alan experienced fatigue and lost his appetite and hair from the chemotherapy. He also lost 40 pounds.
He learned to eat smaller meals and was ready with clippers for the hair loss.
"I was expecting these side effects, which helped me tolerate them quite well," Alan said. "I was able to mow the lawn up until the last month or so of chemotherapy."
After his last chemotherapy infusion, he went to Five Guys to celebrate.
Alan said he was "ready for surgery" and had "tremendous confidence in the surgery team."
On December 21, 2022, Alan had a bilateral lumpectomy, also called a partial mastectomy, and lymph node removal.
"Surgery wasn't that bad. I didn't have much pain and was well enough to get up and start doing things within 10 days after the operation," Alan said.
Alan had physical therapy to help him regain mobility in his left arm and reduce the chances of developing lymphedema.
After surgery, Alan had radiation therapy five days a week for six weeks under the care of Dr. John Spera, chief of radiation oncology at Danbury Hospital and Nuvance Health in Connecticut.
"I didn't have much discomfort and the staff was fantastic," Alan said.
Living with metastatic breast cancer
Alan will continue to be followed by fellowship-trained, board-certified breast surgeon Dr. Carinne Anderson, the chief of breast surgery at Danbury Hospital.
A fan of the show "Dexter," Alan describes breast cancer as "his dark passenger."
"I'm not cured yet; perhaps that will be in the future," Alan said.
"But I feel fortunate to be here," Alan said. "I'm in pretty good shape.
"I'm grateful to have had the tools available to get treated as needed," Alan said.
Alan is also grateful to have more time with his wife of 42 years. He looks forward to ballroom dancing and traveling together.
Alan has some neuropathy in his fingers, feet and ankles as a side effect of the chemotherapy and must be more careful when he is ballroom dancing. "It's a small price to pay for being healthy," he said.
"My wife is a tremendous support; I'm lucky to have her," Alan said.

He also feels lucky to have his siblings and friends.
"My siblings and good friends were there for me and provided anything I needed, even though for the most part, they don't live locally," Alan said. "We also have close friends who live nearby and good neighbors who rallied behind us and assisted with whatever we might have needed."
Alan looks forward to riding his motorcycle, which he had to put on hold during the last two years during cancer treatment.
One of Alan's main goals is to do normal activities without getting fatigued, which is a side effect of a targeted medication designed to treat metastatic breast cancer.

"After I finish the medication, I will be able to live full bore," Alan said.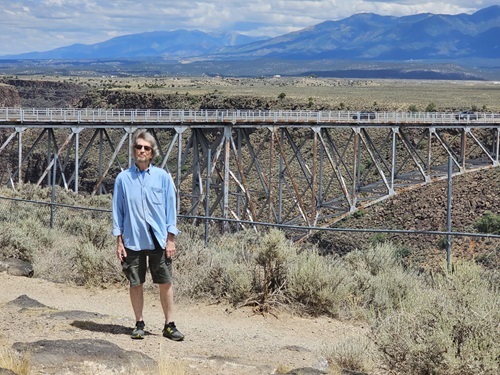 He will also continue taking medication designed to treat hormone receptor-positive breast cancer.
Alan admitted he might not have talked freely about having breast cancer 20 years ago. But in today's culture, he feels like he can be open about his experience and share it to help others.
"When people find out I had breast cancer, most respond with, 'Men don't get breast cancer' or a faraway look trying to make sense of what I said," Alan said.
"I became very aware that breast cancer is considered a women's disease — I see it in the media all the time. By and large, it is. But my job now is to say, 'Men, too!' " Alan said. "Breast cancer is not gender specific. Even though the incidence in men is low, be aware of it and get checked if you have risk factors for it or have symptoms."

Disclaimer: Outcomes from cancer vary from person to person. No individual results should be seen as typical.