A Connecticut woman had two robotic-assisted surgeries to treat lung cancer at Danbury Hospital


Most people probably would not think it was fortunate to fall and end up in the emergency department — and during the holidays no less. However, Nancy Belanger did. She said, "I am the luckiest person," about a fateful fall off a step.

Getting diagnosed with lung cancer

Nancy, a 75-year old Seymour, Connecticut resident, had just moved into a new house. It was that festive time of year between Thanksgiving and Christmas. She slipped on a step but was not worried because she got up right away and nothing hurt.

However, Nancy's daughter, Susan, encouraged her to have a doctor check for possible internal bleeding because she is on a blood thinning medication to manage a heart condition.
Nancy went to the emergency department and had a CT scan. The scan showed her head was fine, but it also showed a spot on her right lung that looked like cancer.
Nancy followed up with her pulmonologist, Dr. Douglas Kahn, who confirmed she had lung cancer and would need surgery.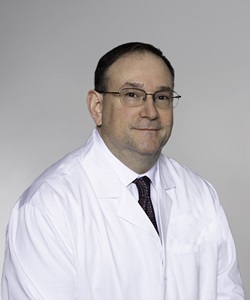 Dr. Douglas Kahn, Pulmonary, Critical Care and Sleep Medicine
Medical Director, Continuing Medical Education, Nuvance Health
Associate Medical Director, Sleep Disorders Center, Danbury/New Milford Hospitals


For her next step, Dr. Kahn recommended Nancy see Dr. Faiz Bhora, system chief of thoracic surgery and thoracic oncology program for Nuvance Health.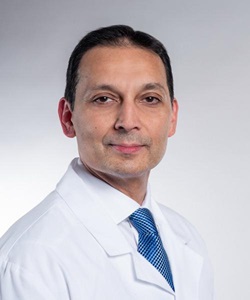 Dr. Faiz Bhora, System Chief of Thoracic Surgery and Thoracic Oncology Program, Nuvance Health

"I respect and trust Dr. Kahn. So when he suggested I see Dr. Bhora, I knew I was going to be in the best possible hands," said Nancy.
"I was scared to have cancer because my son-in-law and two of my best friends died from it," said Nancy.
Nancy focused on her dad to calm her fears.
"My dad was my hero. He was so happy and positive all the time, even when he had a quintuple bypass," said Nancy.
Nancy's dad inspired her love of golf and she lives for the sport. In fact, she won first place in a men's league golf tournament. She has had several surgeries during her life; after each one, her first question has always been, "Will I be able to play golf?"
Nancy focused on getting the cancer out as soon as possible so she could get back on the golf course.
Related article: What you need to know about lung cancer screenings and reducing risk

Having robotic-assisted lung cancer surgery

Nancy had surgery at Danbury Hospital. First, an interventional radiologist placed a fiducial marker next to the cancerous tumor so Dr. Bhora could accurately locate and resect it.
Dr. Bhora then performed a GPS-guided navigational precision surgery. He removed part of the upper lobe of Nancy's right lung that had cancer on it.
"Using either robotic surgical technology or video-assisted thoracoscopy surgery (VATS), thoracic surgeons insert tiny surgical instruments and a small video camera into small incisions in the chest," explained Dr. Bhora.
Dr. Bhora continued, "Then, we can see inside the chest on a video monitor and remove pieces of the lung through the small incisions. Patients usually have a fast recovery and good outcome after this type of robotic-assisted lung surgery especially if the cancer is an early stage."
After surgery, Nancy recovered in the hospital for three days before going home. She said she did well after surgery and did not need additional treatment because Dr. Bhora surgically removed all the cancer.
About a year after her first lung cancer surgery, Nancy found out she needed surgery to remove two new lung cancers in her left lung.
Nancy was safely able to have surgery on her left lung because Dr. Bhora had performed a targeted resection on her right lung to conserve lung tissue.
This time, Dr. Bhora performed a robotic-assisted lower left lobectomy, which involved removing a lobe of the lung. He also removed a piece of the left upper lobe that had cancer on it.
Nancy stayed at Danbury Hospital for two nights before going home after surgery. She said she felt minimal pain and only took acetaminophen to manage it. Once again, she did not need chemotherapy or radiation therapy because Dr. Bhora surgically removed the cancer completely.
Dr. Bhora is passionate about robotic-assisted surgical techniques as an alternative to open surgeries because they are especially beneficial for patients who are older, have other health conditions or limited lung function. He teaches other surgeons these techniques so minimally invasive options are available to more patients.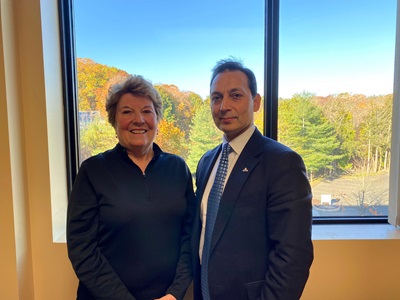 Nancy Belanger with Dr. Faiz Bhora after second lung cancer surgery
Related patient story: New Yorker has robotic-guided lung cancer surgery at Danbury Hospital

Recovering from lung cancer

Nancy was walking the golf course with one club soon after her second surgery.

"Dr. Bhora — who also plays golf — made me promise not to take my driver out for the first time after surgery," laughed Nancy.
Today, Nancy said she "feels great and has a lot of energy."
Nancy walks with neighbors; plays pass football with Henri, her 12-year old grandson; and walks and runs with Sophie, her 14-year old granddaughter.
Plus, "My golf game is back!" said Nancy.
Nancy started making felt, cross body purses after she had shoulder surgery because her surgeon recommended she get rid of her big shoulder bag.
Nancy and her husband of 53-years, Eddie, have become quite proficient in the purse-making trade. They have made many purses that they sell at craft shows throughout Connecticut.
"Eddie and I have a ball at the craft shows," said Nancy.
Nancy also enjoys guest appearances as "Jeff's mom" on her son's podcast.
"Nancy is doing remarkably well and has minimal shortness of breath, despite losing about 20 percent of her lung capacity," said Dr. Bhora. "Her experience demonstrates our mission to provide the best possible cancer care while also preserving a patient's quality of life. This includes performing operations in the most minimally invasive way possible."
Nancy said she is grateful for Drs. Kahn and Bhora's kindness, expertise and genuinely supporting her mission to get back on the golf course and live her life to the fullest.
Learn about lung cancer care at Nuvance Health's Cancer Institute.
The outcome of treatment for lung cancer varies from person to person. No individual results should be seen as typical.