Norwalk Hospital patient has routine screening that detects early-stage breast cancer
Heather Devine of Southport, Connecticut was no stranger to breast cancer. Her mom, aunt and uncle had breast cancer. The 51-year old had regular screening mammograms and MRIs because she was high-risk for breast cancer due to her strong family history and she has dense breasts.
Heather felt comfortable pausing her routine screenings during the height of the COVID-19 pandemic because her past results had been normal and she was not experiencing any concerning symptoms. However, after her friend unfortunately died from breast cancer, she decided to resume screenings.
Timing was everything. An MRI revealed that Heather had an abnormal mass in her left breast.
Heather had an ultrasound and then an ultrasound-guided biopsy. Although the biopsy results showed the mass was benign, her breast surgeon recommended a lumpectomy to remove it for further evaluation because of the location of the tumor.
Dr. Mandy Greenberg, a fellowship-trained breast surgeon, performed the lumpectomy at Norwalk Hospital. The pathology results surprisingly showed cancer cells, requiring a second operation to achieve clear margins (tissue around the tumor).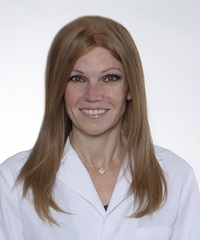 Dr. Mandy Greenberg, Breast Surgery
Heather was diagnosed with early-stage, high-grade ductal carcinoma in situ (DCIS), which is the earliest possible form of breast cancer that can be detected.
Heather's care team at Norwalk Hospital's C. Anthony and Jean Whittingham Cancer Center recommended she have radiation therapy to lower the chance of the cancer recurring.
Traditionally, women with breast cancer who had a lumpectomy have received whole breast radiation therapy over three to four weeks and, more recently, partial breast radiation therapy (PBRT) over one to two weeks.
As part of its relationship with Memorial Sloan Kettering Cancer Center (MSK) in New York, Norwalk Hospital had just opened a MSK clinical trial to study the safety and effectiveness of a new type of PBRT for women with DCIS or early-stage invasive breast cancer after lumpectomy. Participants in this clinical trial receive the same dose of radiation modified to be delivered in just three days. Learn more about the clinical trial.
Heather's care team recommended the clinical trial for her.
A combination of Heather's lifestyle and mindset made the clinical trial a good fit for her.
Heather works in the financial services industry as a project manager responsible for transformation initiatives.
"I believe if you do not look for things to change, nothing ever will. The clinical trial is something that has the potential to bring about positive change," said Heather.
Heather was interested in completing radiation therapy over three days because she works fulltime and is a busy mom of two teenagers.
Heather said she was also interested in the clinical trial to help others.
"I wanted to participate in the clinical trial and contribute to potentially advancing the standard of care for others with this type of breast cancer in the future."
Heather completed the three radiation therapy sessions as part of the clinical trial during her lunch breaks.
Heather will take a hormone therapy oral medication to lower the risk of the cancer coming back, and her care team will monitor her closely with imaging. She will continue to have mammograms and MRIs every year because of her family history and now personal history of breast cancer.
It is common and understandable for people to feel anxiety anticipating the results of their cancer screenings, but Heather is taking them in stride.
"I am not letting breast cancer run my life. I am focusing on what I enjoy most in my life," said Heather.
Heather also had genetic testing and learned she does not have known gene mutations that increase her or her family's risk of cancer, which was a relief because she has two children.
Heather wanted to share her story to help others going through a similar experience.
"Breast cancer can be overwhelming and scary. Focusing on one step at a time, taking it day by day and letting people help me got me through the experience."
Breast cancer care is a team effort. Heather said Dr. Greenberg was, "caring, honest and fantastic" as were her radiation oncologists Dr. Philip Gilbo and Dr. Pradip Pathare and her medical oncologist Dr. George Zahrah.


Dr. Philip Gilbo, Radiation Oncology



Dr. Pradip Pathare, Radiation Oncology



Dr. George Zahrah, Medical Oncology
"Drs. Greenberg, Gilbo, Pathare and Zahrah all spent time discussing my options with me. I felt well informed and prepared about what to expect," said Heather. She said breast health specialist Mary Heery, APRN, and therapist Michelle Dailey, supported her every step of the way, too.


Mary Heery, APRN



Michelle Dailey, LMFT
"A team of surgeons, medical oncologists, radiation oncologists, pathologists, genetic counselors and more evaluate every newly diagnosed patient and develop a well-thought-out care plan. We also connect our patients with important services such as nutrition and lymphedema specialists," said Dr. Greenberg.
Women who think they may be eligible or physicians referring their patients to the clinical trial can call (203) 739-7997 (TTY: 1-800-421-1220).
Learn more about breast cancer care at Nuvance Health.
Drs. Greenberg, Pathare and Zahrah were recognized as Connecticut Magazine's Top Doctors of 2021.

Photo credit - Heather Devine: Eric Trautmann/Hearst Connecticut Media