Bob Brophy shares advice and support for others going through a serious medical concern, especially those managing a cancer recurrence
Bob Brophy, 60, had surgery to treat prostate cancer in 2009. Since then, he has had routine blood work to monitor the prostate-specific antigen (PSA) in his blood. For 12 years, Bob said he never worried about the cancer coming back. That changed in November 2021.
Going through prostate cancer treatment for the second time
Bob's primary care doctor recommended further testing because his PSA level was concerning. Elevated PSA levels may indicate prostate cancer. Additional testing is needed to diagnose or rule out prostate cancer.
Bob's urologist, Dr. James Bruno, recommended he have a PET scan. The scan showed prostate cancer in his pelvic lymph nodes.
Bob is familiar with Danbury Hospital. He works for Nuvance Health as a medical actor, known as a standardized patient, in the Harold A. Spratt Center for Simulation and Clinical Learning. Following his diagnosis, he had a consultation with Dr. John Spera, chief of radiation oncology at Danbury Hospital.
Bob then connected with radiation oncologist Dr. Joseph Bargellini at New Milford Hospital, a campus of Danbury Hospital, for radiation therapy because it is close to his home in New Milford, Connecticut.
"I was surprised to be facing cancer again; it was a bit of a blow," said Bob. "But, I decided to accept and take care of it."
Bob first had hormone therapy for prostate cancer eight weeks before starting radiation therapy. Then, he had radiation therapy five days per week for eight weeks.
"I had a number of side effects, ranging from fatigue to hot flashes, especially at night," said Bob. "But the doctors and staff had prepared me for what to expect and how to manage the symptoms."
"I made the most of my mornings when I had more energy, which was challenging because I usually have very full days," said Bob. "I learned to listen to my body and be honest with myself and others about how I felt in the afternoon. After 3pm, unless the cat was missing or something was on fire, it might have to wait until the next morning!"
In addition to the latest radiation therapy for prostate cancer, Bob and his wife Felicia were thankful for the Diebold Family Cancer Center and New Milford Hospital services and staff.
"Felicia and I never expected to make friends at a cancer center, but we did! We were really blown away by how caring, friendly and personable everyone was at New Milford Hospital," said Bob. "Everyone in the cancer center — Dr. Bargellini, nurses, radiation therapists and front desk staff — and dining room staff made my situation easier."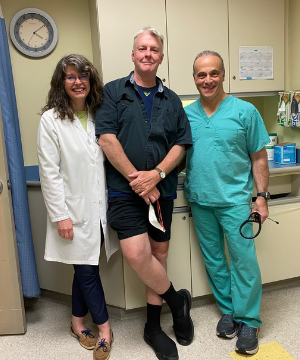 (Left to Right) Radiation Oncology Nurse Cindy Moschitta, Bob Brophy and Dr. Joseph Bargellini
"We think the world of Kerry Gold, the dining services director, who spent time with us when Felicia and I were having Plow to Plate meals. He made Felicia laugh, which helped a lot when she was worried about me," said Bob.
Bob said Plow to Plate meals were a highlight of his experience at New Milford Hospital. He and Felicia did not need to worry about preparing healthy meals during his treatments.
Bob completed his last radiation therapy treatment in May 2022.
"Although I went in feeling positive and knew that the side effects would fade away, I was relieved to complete radiation therapy," said Bob.
Advice and support for living life after a cancer diagnosis
Today, Bob said he is "feeling optimistic and stronger every day."
Post cancer for the second time, Bob continues to live his life with purpose. His motto is, "Do not let things pass you by, because you never know what tomorrow will bring."
Bob and Felicia care for her 102-year old mom. They were both certified nursing assistants (CNAs) and also cared for her dad who had Alzheimer's disease. They enjoy spending time with family and friends, their 16-year old cat, and bird-watching.
Bob and Felicia are working musicians and perform together as The Blue Yodels. They perform about 150 shows a year at a variety of venues including restaurants, bars and wineries, private events, residential care facilities, the New Milford Farmers Market, and even New Milford Hospital.
"I play guitar and sing. Felicia is the star. She is a vocalist and plays harmonica," said Bob. "We have a Sonny & Cher thing."

Bob and Felicia performing at the New Milford Farmer's Market

Bob wants others to know how important it is to take responsibility for your health — especially for those who have been affected by cancer.
"If you had cancer and are in remission, it is important to stay vigilant with your health. I continued my regular checkups and had my PSA levels tested since my initial diagnosis over a decade ago — even during the COVID-19 pandemic," said Bob. "Although I was surprised the cancer came back, it was at least caught at an early stage."
Bob also wants others to know how and where to ask for help.
"I worry about people with a serious medical condition who may feel like they are alone. When I accepted my diagnosis and was ready to let others know about it, I shared my situation on social media. I invited anyone in a similar situation to contact me if they needed to talk. Some people did!" said Bob. "I also found comfort through support groups, like at Ann's Place."
The power of love and support makes a big impact on someone going through cancer. Bob wants to thank his support system for carrying him through another cancer diagnosis.
"Felicia is the most wonderful partner in the world. Our incredible families were there for us in many different ways. Our thoughtful neighbors brought over food. People we had never met but who saw us play music reached out on social media to say they were thinking of us," said Bob.
Learn more about radiation therapy at the Nuvance Health Cancer Institute.
Disclaimer: Treatment and outcome for cancer varies from person to person. No individual results should be seen as typical.