A 71-year old from the Hudson Valley had successful surgery and radiation therapy to treat advanced oral cancer during the peak of the COVID-19 pandemic
Advanced stage oral cavity cancer. Beginning of the COVID-19 pandemic. Fear. Uncertainty. Charlie, a 71-year old in the Hudson Valley, New York lived through it all.
Oral, maxillofacial, and head and neck surgeon Dr. Al Haitham Al Shetawi recommended Charlie have surgery to initially treat the cancer. He then would need radiation therapy.
Dr. Al Shetawi and Charlie's care team, including nurse practitioner Holly Parker, needed to plan a complex surgery to treat late-stage cancer at a time when little was known about COVID-19. Charlie's care team developed a comprehensive surgical plan that would best treat the cancer and also get him home as soon as possible after surgery.
On March 24, 2020, Charlie had radical reconstructive surgery to treat the cancer at Vassar Brothers Medical Center.
During the surgery, Dr. Al Shetawi removed two-thirds of Charlie's lower left mandible, known as the jawbone. The mandible is the largest and strongest bone in the human skull and holds the lower teeth in place. Dr. Al Shetawi also removed some of Charlie's teeth, 20 lymph nodes and a salivary gland where the cancer had spread.
Dr. Al Shetawi then replaced the missing jawbone with a titanium plate and tissue from Charlie's neck.
"After my surgery, Dr. Al Shetawi made sure I was in a safe and isolated area of the hospital," said Charlie. "His attention to all my needs was and continues to be exemplary," said Charlie.
Charlie was able to go home three days after surgery when he started his long road to recovery.
"Nurse Holly Parker has been invaluable. She worked tirelessly to make things happen in a very difficult situation because of the COVID-19 pandemic," said Charlie. "She was in constant contact with my family and handled all my needs. She arranged online training and made sure I had special formula because I went home with a feeding tube."
Charlie continued, "Holly's professional way of managing medical and technical problems made me and my family feel secure."
Charlie needed radiation therapy after surgery. Side effects from the radiation therapy affected his sense of taste, including sensitivity to hot and cold and textures like bubbles from carbonated beverages.
"Today, my facial appearance has returned to normal. Unless I tell people, no one knows I had major surgery. The surgery was a work of art," said Charlie. "And, my sense of taste has gradually been improving."
"Looking back, this was a horrible tragic thing that happened to me. Fortunately, I was and continue to be in the best of hands," said Charlie.
"My journey is not over. I still have a ways to go. But so far, I have made a successful recovery, thanks to Dr. Al Shetawi, Holly, my wife and family," said Charlie. "I am sure Dr. Al Shetawi and Holly will continue giving me the best possible care and advice."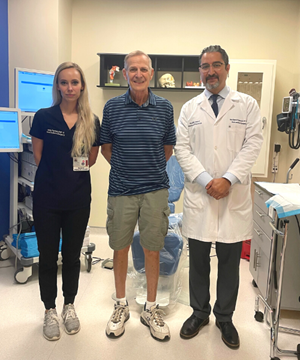 (Left to Right) Holly Parker, Charlie, Dr. Al Haitham Al Shetawi

Dr. Al Shetawi is fellowship trained in head and neck surgical oncology and microvascular reconstruction, and board certified in oral and maxillofacial surgery. Dr. Al Shetawi specializes in the surgical treatment of oral and head and neck cancers and performs facial reconstructive procedures. Book an appointment directly online with Dr. Al Shetawi.
Learn more about head and neck cancers at the Nuvance Health Cancer Institute.
Disclaimer: Treatment and outcome for cancer varies from person to person. No individual results should be seen as typical.