Regular cervical screenings can prevent cervical cancer
By Dr. Linus Chuang, System Chair of Women's Health Services, Nuvance Health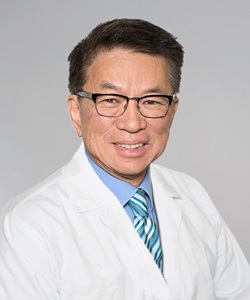 Cervical cancer is preventable. However, researchers from the UCLA Department of Obstetrics and Gynecology found late-stage cervical cancer cases are on the rise in the United States. The International Journal of Gynecologic Cancer recently published the study results.
These results are interesting because cervical cancer cases overall have been declining, thanks to screenings and the HPV vaccine. Advanced cervical cancer may mean some women are not having routine cervical screenings with their gynecologist.
Here are two main reasons why cervical screenings are important. Also, whether you have routine screenings or not, pay attention to signs of cervical cancer to get medical attention quickly.
Cervical screenings check the health of your cervix.
The cervix is located at the lower end of the uterus and connects it with the vagina. Cervical cancer happens when cells grow out of control in the cervix.
A screening is a medical checkup when you have no symptoms. A cervical screening usually includes a pelvic exam and screening tests.
It is important to have the health of your cervix checked by a qualified women's health specialist, such as a gynecologist. A gynecologist can detect any changes in your cervix and help treat the problem. Sexually transmitted infections (STIs) are common medical conditions that affect the cervix.
Speaking of STIs, human papillomavirus (HPV) is very common. According to the U.S. Centers for Disease Control and Prevention (CDC), more than 42 million Americans have strains of HPV that cause other diseases, and about 13 million Americans get it each year.
Further, HPV causes about 36,000 cases of cancer in men and women every year in the United States. Some HPV infections can cause cervical, vaginal or vulva cancer in women; penile cancer in men; and anal and oropharyngeal cancer in men and women.
Cervical screenings can prevent cervical cancer.
There are two main cervical screenings: the HPV test and Pap test (or Pap smear). Both tests can help prevent cervical cancer or find it early before it has spread.
Current U.S. Preventive Services Task Force guidelines recommend women start Pap tests at age 21, and then every three years if the results are normal.
Women 30 to 65 years old should have a Pap test every three years, and HPV test every five years. Or, they can have co-testing (both HPV and Pap test) every five years.
During a pelvic exam, your gynecologist will use a swab to collect cells from your cervix and test them.
HPV test
If an HPV test is positive, it means you have a strain of HPV that may increase your risk of developing cervical cancer — it does not mean you have cancer or will definitely get it. Your doctor will determine the best next steps for you, which may include close surveillance and repeat HPV tests. Your doctor may also recommend having a colposcopy procedure to examine your cervix further and possibly take a biopsy.
Pap test
If your Pap test is abnormal, it might mean you have precancerous cells that could turn into cancer if they are not treated. Next steps may include removing the precancerous cells during a surgical procedure and actually preventing cervical cancer from developing.
Related content: What you need to know about ovarian cancer


Know the signs of cervical cancer.
Even if you get routine cervical screenings, it is always good to know the signs of cervical cancer so you know when to see your doctor.


Cervical cancer usually does not case symptoms when it is an early stage. Advanced-stage cervical cancer may cause bleeding or discharge from the vagina that is not normal for you. For example, bleeding after menopause or after sex. Cervical cancer may also cause pelvic pain or pain during sex. See your gynecologist or primary care provider if you experience these symptoms. These symptoms may not be from cancer, but it is still important for you to see a healthcare provider.
Related content: Woman overcomes advanced-stage uterine cancer after multiple surgeries and chemotherapy
The bottom line: Your life matters and that includes your cervical health. Regular screenings can help prevent cervical cancer from developing. See your gynecologist for HPV or Pap tests every three to five years depending on your age and test results. While you can feel in control of your cervical health through screenings, it is always useful to know the signs of cancer so you know when to get medical care.
Dr. Linus Chuang is the system chair of Women's Health Services for Nuvance Health. He is a board-certified, fellowship-trained gynecologic surgical oncologist. He has more than 25 years of experience diagnosing, treating and caring for women with cervical, endometrial, ovarian and other gynecologic cancers and conditions. Dr. Chuang has deep expertise in laparoscopy and robotic surgery. He is also the Fred and Irmi Bering Endowed Chair in Minimally Invasive Surgery at Nuvance Health. Book now with Dr. Chuang.