A few times a month, Deneen Brown's heart rate would accelerate to 150 beats per minute for no apparent reason.
The palpitations were long-lasting and would cause Brown to become achy and tired.


"I would just try to make myself relax," Brown, 54, said. "But it would be going for hours at a time."
Perhaps her arrythmia was related to her thyroid medication or the stress of raising four children, caring for her father with dementia and running a daycare, she thought. However, she went off the thyroid medication last June and her palpitations persisted.


After using a beta blocker with little success, Brown's physician, Dr. Teresa Menendez, a cardiac electrophysiologist with Nuvance Health Medical Practice in Norwalk, recommended she get a cardiac ablation to control her rapid heart rate.


Cardiac ablation is a procedure that scars tissue in the heart in order to block abnormal electrical signals and restore a normal rhythm.


During an ablation, a catheter is guided to the area of heart tissue producing the abnormal electrical signals. The catheter emits a pulse of painless radiofrequency energy that destroys the abnormal tissue and corrects the irregular heartbeat.
"Catheter ablation for supraventricular tachycardia (SVT) has been around since the early 1990s. It is extremely successful. I am very happy that we can bring this procedure full-time to Norwalk Hospital," Menendez said. "We now have trained staff in excellent laboratory facilities to be able to do these procedures here at Norwalk Hospital. The patient usually goes home the same day and is able to cut back or stop many other medications."
On April 1, Brown had an ablation procedure at Norwalk Hospital and was discharged the same day. Even though it's only been a little more than a month, Brown said she hasn't experienced any issues thus far.


"Dr. Menendez was great. She explained the procedure, and everything went well," Brown said. "I've been fine. I'm glad I did it."
Learn more about electrophysiology at Nuvance Health. To schedule an appointment with Dr. Menendez, call (203) 855-3680; TTY (800) 842-9710.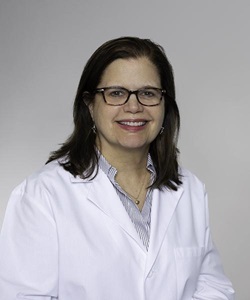 This story is one patient's experience, recounted here for educational and general informational purposes only.