Joanne Mahoney had surgery and radiation therapy to treat breast cancer


Joanne Mahoney knows how to care for patients who need medical imaging. The 64-year old has dedicated nearly four decades to a career in radiology at Norwalk Hospital and Nuvance Health. She also now knows what it is like to be a patient after a mammogram revealed an abnormal finding.
Getting a breast cancer diagnosis
Joanne has had mammograms, ultrasounds and MRIs of her breasts in the past with no abnormal findings, until a mammogram showed a calcification in her upper, right breast.
Related article: Breast screenings and imaging tests
After a follow-up mammogram and outpatient stereotactic breast biopsy at
Norwalk Radiology and Mammography Center
, Joanne learned she had ductal carcinoma in situ (DCIS).
"I thought 'Come on, really?' when I was diagnosed with DCIS because I have no family history of breast cancer and no genetic predisposition to it according to genetic testing results," said Joanne. "It was also strange to be the patient after spending so many years as a caregiver and facilitator of breast cancer screenings and diagnostic tests."
Related article: Genetic counseling for breast cancer
"I felt worried because I had recently lost a friend to metastatic breast cancer after she had a bilateral mastectomy. It was difficult not to think that I might have a similar experience," said Joanne.
Joanne said her breast surgeon
Dr. Jeanne Capasse
, helped alleviate her worry.
"I have known Dr. Capasse a long time and already knew she was great. As my doctor, she was very informative and supportive. I appreciated that she showed me the pathology report when she explained my breast cancer," said Joanne.
She continued, "Dr. Capasse said the breast cancer was an early stage, noninvasive and hormone receptor positive, which meant I likely would not need chemotherapy. My attitude changed knowing these details and I thought, 'I can get through this.'"
"I took a deep breath and decided to take it day-by-day and not get myself into a tizzy," said Joanne. "Then, everything that happened next was like clockwork."
Dr. Jeanne Capasse, Breast Surgery, Norwalk Hospital

Having breast cancer treatment
Mary Heery, APRN and breast health specialist at Norwalk Hospital reached out to Joanne and gave her resources including a book.

"The book gave my husband Bill and I everything we needed to manage my diagnosis," said Joanne.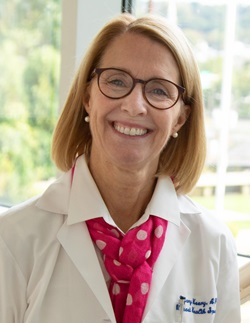 Mary Heery, APRN

Zarek Mena, women's health program manager at Nuvance Health in Connecticut, also reached out to Joanne and was an integral part of connecting her with her care team, including Dr. Philip Gilbo, chief of radiation oncology at Norwalk Hospital, and medical oncologist Dr. George Zahrah.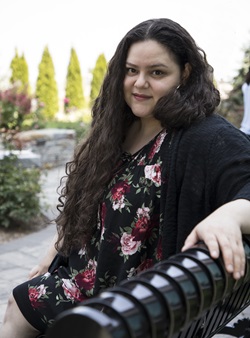 Zarek Mena, Women's Health Program Manager, Nuvance Health

"Drs. Gilbo and Zahrah each spent an hour with me and Bill during my initial consultations," said Joanne. "We appreciated the details they shared with us, and we felt confident in my treatment plan."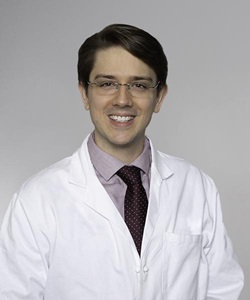 Dr. Philip Gilbo, Chief of Radiation Oncology, Norwalk Hospital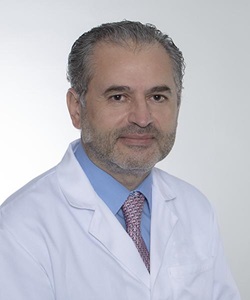 Dr. George Zahrah, Medical Oncology, Norwalk Hospital


Joanne continued, "The team's communication was well coordinated and everyone spent time with me. It helped me and Bill feel much better knowing everyone was working together, aware of what each other were recommending and truly cared about me."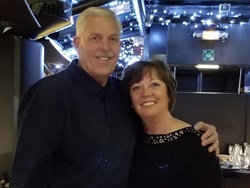 Bill and Joanne


Related article: Diagnosed with breast cancer? The decision journey.

First, Dr. Capasse performed a lumpectomy to remove the breast cancer.

"I felt anxious before surgery, but the nurses at Norwalk Hospital helped me feel better," said Joanne.

"During a lumpectomy, we remove the cancerous tumor and surrounding normal tissue. Our main priority is removing the cancer completely. We also aim to preserve as much of the breast as possible for a better cosmetic result," said Dr. Capasse.

Related article: Surgical oncology for breast cancer

Then, Joanne had 10 days of partial breast radiation to reduce the risk of the cancer coming back in the same spot. Each treatment was about four minutes.

"For patients who meet criteria for this type of treatment, partial breast radiation provides them the benefit of radiation but with fewer risks and side effects when compared to whole breast radiation," said Dr. Gilbo.

"The radiation therapists were great," said Joanne.

Joanne said she did not miss much time from work during surgery and radiation therapy, and she experienced few side effects.

"I only have about a one-inch scar from surgery and some skin discoloration from the radiation therapy, which are both common," said Joanne. "I need to take an oral hormone therapy for about five years and so far have had no side effects to the medication."

Related article: Managing side effects from breast cancer treatment

Joanne said she liked that Norwalk Hospital offered complementary medicine for breast cancer patients including massage.

Living life after breast cancer
Today, Joanne is focused on eating healthy and exercising, including walking by the water near her home in Milford, Connecticut.
Joanne has a lot to look forward to post breast cancer, including spending time with Bill — and sharing their love of art — and their children and grandchildren, and reading all different kinds of books outside on her deck.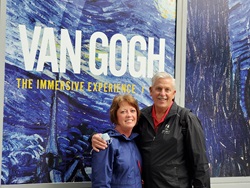 Bill and Joanne love art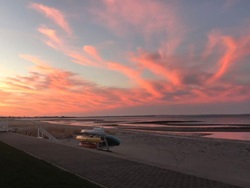 Joanne loves walking by the water near her home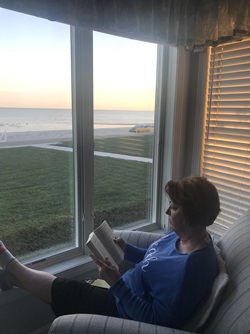 Joanne loves reading on her deck

Learn about breast cancer care at Nuvance Health's Cancer Institute.