Connecticut woman felt safe receiving treatments due to enhanced precautions to reduce the risk of COVID-19 transmission at New Milford Hospital
Kathy Coe, 67, of Washington, Connecticut, began to experience pelvic discomfort that became so severe she ended up going to New Milford Hospital's Arnhold Emergency Department (ED). Her ED physician ordered a CT scan that showed a mass. The following day, Kathy's diagnosis was confirmed; she had stage IIIB ovarian cancer.
Kathy shared the news of her diagnosis with her two sons. One of her sons is an emergency medical technician (EMT), and the other is a teacher — and both gave her good advice.
"My EMT son said, 'Mom, you need to remember W-I-N: What's Important Now,'" said Kathy. "He told me it is a helpful tool in a crisis, and it has been powerful for me."
Both of Kathy's sons also urged her to think about how she could take care of herself by eating healthy, getting plenty of sleep and exercising.
Taking her sons' words to heart, Kathy decided to focus on the next part of her treatment, which would take her closer to getting better.
A 'good solution'
The week after receiving her diagnosis, Kathy had several medical appointments and scheduled her surgery.
"In an incredibly short period of time, I went from knowing nothing about having cancer to preparing for surgery," said Kathy.
After surgery, Kathy needed to have chemotherapy. Kathy intended to go to a large cancer center, but because of the COVID-19 pandemic, she was reluctant to travel far from home and wanted to minimize her risk of exposure to the virus as much as possible. A friend suggested for Kathy to consider the Diebold Family Cancer Center at New Milford Hospital for her chemotherapy treatment.
"I live close to New Milford Hospital, so I did not have to go far," said Kathy. "It was just a good solution for me and eliminated the stress of doing a lot of driving."

Enhanced precautions during COVID-19 pandemic
"Right from the get-go, my sister who is a doctor was telling me I was going to need surgery and chemotherapy, so the concept of having these treatments was not much of a shock to me," said Kathy. "I thought, 'This is just a necessary piece of the puzzle.'"
As COVID-19 became more of a threat in Connecticut, New Milford Hospital started implementing patient safety precautions following state and federal guidelines, such as restricting visitors and asking screening questions before each appointment.
"Initially, there was the possibility that my husband Tom could be with me when I got chemotherapy, but then he could not be with me," said Kathy. "It was just the care team and me."
Nonetheless, Kathy said all the precautions made her feel safe.

Unexpectedly wonderful news
Kathy completed six chemotherapy treatments.
"I had a decent idea of what to expect as far as side effects because there was a lot of discussion with my care team and I was prepared," said Kathy. "I expected to lose my hair, which started after my second treatment. The exhaustion was the hardest thing."
Kathy also said she appreciated the nursing staff, who told her what they were doing and why.
"It was incredibly helpful to have specific details," said Kathy. "I also felt encouraged because my medical oncologist Dr. Sandra Lombardo said, 'We got this, and we are going for a cure.'"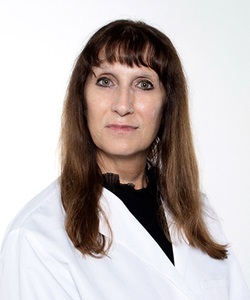 Dr. Sandra Lombardo, Medical Oncology

Another bright spot in her treatment was the laughter she heard in the cancer center.
"I did not see other people except for my care team, and the laughter from others was beautiful to hear. Even during this challenging time, the cancer center was in good spirits," said Kathy.
Kathy had a repeat CT scan that showed no evidence of ovarian cancer.
"When Dr. Lombardo called to tell me the CT scan results and that I was cancer-free, I was in as much shock with that news as I was with my original diagnosis!" said Kathy.

Focusing on what really matters
During her diagnosis and treatment, Kathy maintained a positive attitude and concentrated on what mattered most to her: family, health and taking care of the people she loves.
"Cancer really simplified many, many things. Within the bubble of self-isolation during the pandemic, there was an even smaller bubble for me with cancer. For me, isolation was actually very helpful because it forced me to simplify my life and focus on what is most important," said Kathy. "Of course no one wants cancer, but I realized there was a gift with it — it just says; here right now, just take care of this."
Learn more about gynecologic cancer care at Nuvance Health.
The outcome of treatment for ovarian cancer varies from person to person. No individual results should be seen as typical.