Dr. Scott Sanderson shares what he does to recharge his body and brain so he can stay sharp for neurosurgery
Neurosurgeons have years of extensive and intense training to learn how to diagnose and treat brain, spine and nervous system conditions. They continuously learn new techniques to bring the latest care options to patients. They need to stay alert for emergencies and traumas and hyper-focused during complex and intricate surgeries.
So, how do neurosurgeons stay at the top of their game?
Neurosurgeon Dr. Scott Sanderson, chief of neurosurgery at Danbury Hospital, said finding a way to relax outside of work is key to leading a balanced life.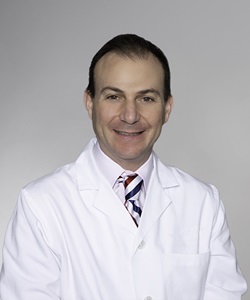 Dr. Scott Sanderson, Neurosurgery

Exercising outside
"As a neurosurgeon, I feel fortunate to have a stimulating job and the honor of helping my patients maintain their quality of life and overcome life-threatening neurological conditions," said Dr. Sanderson. "To stay alert and sharp for the daily excitement my job brings, it is important to find ways to recharge outside of work."
Dr. Sanderson continued, "I enjoy trail running and mountain biking through the beautiful parks in our communities. It is an amazing way to appreciate and explore the beauty of southwestern Connecticut."
Spending time outside has many benefits including promoting mental health, reducing stress and getting vitamin D from sunlight, which can boost the immune system, bone health and mood.
Related story: Two-year-old narrowly survives emergency brain surgery during COVID-19 pandemic
Cooking
"I enjoy cooking with my two young sons to calm my mind. I feel like we can make something amazing when we throw on our aprons and experiment with recipes," says Dr. Sanderson. "Then, we get to sit down and enjoy the fruits of our labor together. If it does not work out, we can always throw it away and order pizza — which is fun, too."
Cooking and spending time with loved ones both contribute to boosting creativity and self-esteem, reducing stress and making lasting memories.
Related news: New neurosurgeons expand specialty care at Nuvance Health
Dr. Scott Sanderson specializes in the surgical treatment of brain tumors and trauma, and degenerative and traumatic spine diseases. He is a board-certified, fellowship-trained neurosurgeon who trained at New York University, one of the most prestigious academic neurosurgical programs in the country. He uses his expertise to give back to his community and provides personalized state-of-the-art care in a local setting.
Dr. Sanderson cares for patients in Connecticut by contract through Nuvance Health Medical Practice CT, Inc. Learn more and request an appointment with Dr. Sanderson.
Learn about neurosurgery at the Nuvance Health Neuroscience Institute.