Innovative system enables radiation accuracy without permanent tattoos to mark treatment areas

Nuvance Health's Norwalk Hospital now offers people with breast cancer a new way to have radiation therapy. Norwalk Hospital is one of the only sites in Connecticut offering tattoo-less radiation therapy for breast cancer. The system eliminates the need for permanent tattoos to mark treatment areas while ensuring treatment effectiveness.

Radiation oncology for breast cancer uses precisely focused beams of energy to eliminate cancer cells. Physicians develop plans to protect healthy organs surrounding the breast from radiation beams as much possible. Traditionally, permanent tattoos have been used to mark the starting position for daily treatments.

The new system uses 3D cameras with sensors to monitor a patient's position before and during radiation, and ensures the beams precisely target desired areas. This allows for real-time tracking and the treatment to be stopped if the system senses any movement.

"Radiation is a very precise treatment — we work in millimeters — and even minor deviations can be problematic. The new infrared technology enables accuracy while improving patient experience," said Dr. Philip Gilbo, chief of radiation oncology at Norwalk Hospital.

"For decades, permanent tattoos have been a necessary component of breast cancer radiation. While some patients are not bothered by the marks, for others it is a constant reminder of a time they want to move past. For these individuals, the new delivery method will be quite meaningful," said Dr. Gilbo.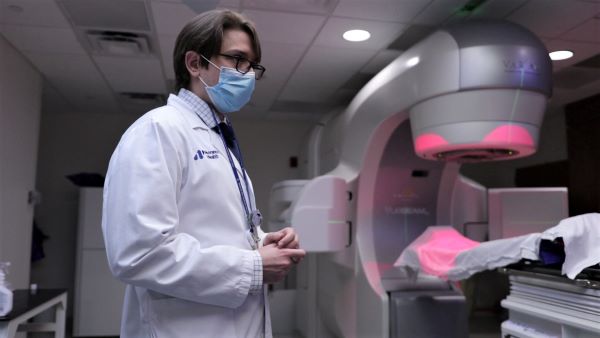 Philip Gilbo, MD, Chief of Radiation Oncology, Norwalk Hospital with tattoo-less radiation therapy system
Tattoo-less radiation therapy is available for all breast cancer patients at Norwalk Hospital's Nancy Jones Beard Radiation Oncology Unit at the C. Anthony and Jean Whittingham Cancer Center — an
American College of Radiology accredited
center.
Learn more about radiation oncology at Norwalk Hospital.