Driver rehab, physical therapy and occupational

therapy help

Mike F

oster meet important goals

after having a

hemorrhagic

stroke
A stroke took a swing at Mike Foster's life. But Mike was determined to get back to swinging a golf club, driving and biking despite being initially paralyzed on the right side of his body from the stroke. He has dedicated himself to stroke rehabilitation including driver rehab, physical therapy and occupational therapy, and has made tremendous progress.
Brain bleed causes stroke, hemiparesis and aphasia
Three years ago, Mike was an active 62-year-old, vice president of sales at a paper trading company, traveling, and had a full social life. He was in Florida for a golf tournament when his life changed drastically. He had a brain bleed that caused a hemorrhagic stroke.
"I was lucky to be near a hospital that had a Level I Stroke Trauma Center," Mike said.
Mike's stroke care team stabilized him, and then thankfully, the bleed clotted on its own. He did not need further treatment. But he was paralyzed on the right side of his body and had aphasia. Aphasia causes trouble communicating because of a brain injury.
"I could not walk or move my right arm, which was concerning to the doctors, me and my wife," Mike said. Mike and his wife Lisa have been married for 43 years.
Inpatient stroke rehabilitation and setting post-stroke goals
Mike made his way home to Connecticut. It was April 2020 and COVID-19 was shutting down the country. Mike needed extensive therapy but was having trouble getting into a rehab facility.
"Lisa did an unbelievable job finding a rehab place that would take me," Mike said.
Mike had inpatient therapy for a month. In late March, Mike started walking, which he said "was a relief and positive sign."
After inpatient rehab, Mike stayed at his summer home in Old Saybrook for two months because he could live on one floor. He could not walk up and down stairs yet.

Driver rehabilitation after a stroke
When Mike started gaining mobility back, he felt hopeful and decided to set goals to shoot for. He was determined to achieve three main goals to start to get his life back: he wanted to drive, golf and bike again.
At first, Mike could not drive, which he said was "very difficult."
"I did not have the independence I was used to," Mike said. "Independence is extremely important, and driving is a huge measure of independence," Mike said.
"For a few months, Lisa drove me places, or I would take Uber, hire a driver or use a taxi to get around," Mike said.
Mike was able to drive again about fifteen months after his stroke thanks to driver rehab. In driver rehab, he regained reaction time and visual acuity. He also learned how to drive left-handed because he could not use his right arm. Mike also invested in a new car that had voice command control.

Physical therapy and occupational therapy improve mobility and strength
In July 2020, Mike moved back to his home in Norwalk and started physical therapy (PT) and occupational therapy (OT) three days a week at Nuvance Health Physical Rehabilitation in Norwalk. He started working with Desiree Elliot, a physical therapist and supervisor of outpatient rehabilitative services.
"Desiree was instrumental in helping me use stairs, which was extremely important because my house in Norwalk has two flights of stairs to get to the bedroom," Mike said. "Desiree helped me stay in my home."
Then, Mike started PT with Liz Klumac.
"Liz helped me understand the mechanics of rehabbing my arm and leg," Mike said. "Rehab is unbelievable because you have to relearn every mechanic that goes into moving a part of your body."
"Rehab can be daunting because there are so many exercises. But my therapists helped me focus on a few exercises at a time that I could do successfully and would be the most impactful," Mike said.
"Liz had me start at the bottom because I had drop foot. I first strengthened my ankle, then my calf and leg," Mike said.
Mike also started OT with Alyssa Bond. Alyssa helped Mike with interventions so he could maintain his independence.
"I cannot use my right arm and hand, so I had to learn how to use my left hand," Mike said.
Mike has been able to eat and write with his left hand.
"Eating was easy for me to pick up, and writing has been the most difficult," Mike said. "Printing is okay, but cursive is a challenge."
"Cutting food is also difficult, but Alyssa recommended adaptive tools and resources," Mike said. Now he uses an adaptive cutting board to cut food.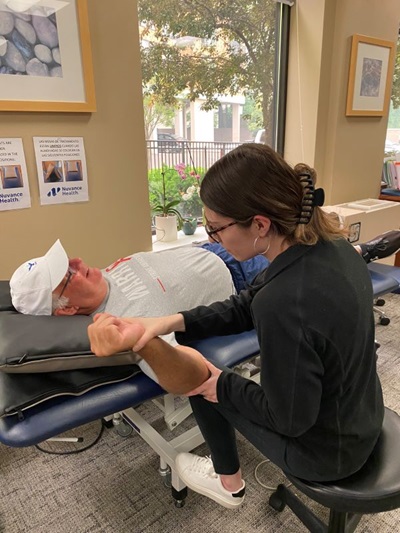 Stroke rehab helps get back to a life worth living
Mike wanted to get back into bike riding. A year before the stroke, he had completed the Pan-Mass challenge — a fundraiser he did with 50 of his company associates.
In April 2022, Mike tried a friend's trike — a three-wheeled bike for adults with all the controls on the left— he loved it.
"I ride my trike quite regularly, and even took it to Florida for two months," Mike said. "It is a great way to explore new places and exercise."


Mike started chipping (golf) in rehab when he was in Old Saybrook. He first used Velcro to hold the golf club. Then, he learned how to golf one-handed with his left hand.
In August 2022, Mike was back on the golf course playing 18 holes, one-handed.
"It has been quite rewarding to play golf again," Mike said. "Lisa and I play with friends and golf with the guys I used to play with. I am back in the social scene that I was once a part of, and able to do things I was used to doing in my 'normal' life."
In addition to driving, biking and golfing, Mike has been able to get back to traveling with Lisa.
"We went to Europe with friends. The places we went were not handicap accessible, but I was able to find my way around with help from Lisa and our friends," Mike said. He was able to enjoy a Rhine River Cruise and travel to Amsterdam, Switzerland, France and Germany.
More than three years after the stroke, Mike has continued to be active, strong and enjoy life. He can walk without assistance, even though he keeps a cane nearby just in case.
"In a situation like mine, you need to be prepared," Mike said.
Mike has some mobility in his right arm and hand but has not regained all movement.
"My right arm and hand are the last and most difficult to recover," Mike said.
Mike still has PT/OT once weekly, and exercises with a personal trainer twice weekly.
"Liz and Alyssa were kind enough to proactively share exercises with my trainer so I could continue to gain strength," Mike said.

Mike also exercises in a pool and stretches every morning and night. He also sees a professional to help him do advanced stretching and keep his limps mobile.
Post-stroke life can be an "emotional roller coaster" but gets better with support, love and goals

Mike said he is thankful for his rehab team and family.
"Desiree, Liz and Alyssa have been very helpful," Mike said.
"Lisa and our kids and friends have been extremely supportive. Without them, I would have a very different story," said Mike, who has a son, daughter, son-in-law and three grandchildren.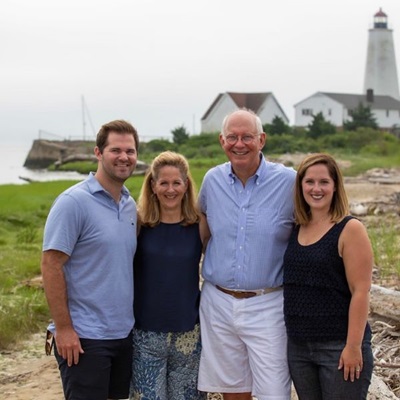 "For the first six months, Lisa kept the ship going. She took care of me, our household and continued to work," Mike said "She put all the pieces back together."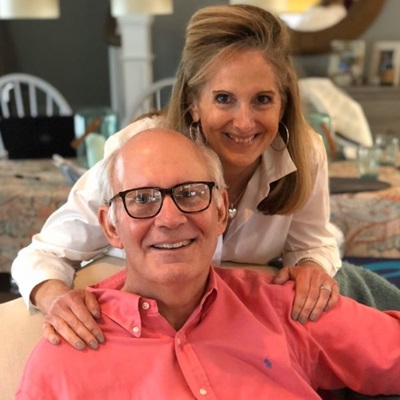 "It has been an emotional roller coaster," Mike said.
Mike retired one year after the stroke, which was sooner than he had planned.
"It was a bit of a challenge because I was thrust into retirement when I had planned to ease into it," Mike said. "I had grand plans and a vision for my retirement. Then all of sudden, my plans were thrown into the wind."
"It was difficult for me and Lisa to come to grips with having had a stroke. Staying positive has been one of my strengths, but that is because of Lisa. She has been very strong and I get a lot of strength from her," Mike said.
"When we're born, we're dealt a hand of cards and expect to play that hand our whole life. But then the cards are shuffled, and you get a new hand and sometimes that hand stinks. But it is the only hand you've got so you have to play it," Mike said.
Now that Mike has achieved his first three goals post-stroke, he has set another goal. He wants to explore all 64 National Parks with Lisa.
"If we can explore all 64 National Parks, that would be a huge accomplishment," Mike said.
Disclaimer: Outcomes from stroke vary from person to person. No individual results should be seen as typical.