Brenda Collins' airway was "the size of a pea" and causing breathing issues and a life-threatening condition
Brenda Collins' hopeful, optimistic attitude and devotion to her family got her through a worrisome time and unusual diagnosis.
Her labored breathing would worsen just by walking. She was having an increasingly harder time getting air. Perhaps it was kismet Brenda persevered for six years until she was ready to see a doctor because when she did, she found exactly what she needed.
Brenda, now 60-years old and living in South Salem, New York, said she was not a fan of "being in the medical whirlwind" after spending much of her young life at hospitals.
Brenda was in and out of hospitals as a child because she was not growing at a normal rate. She ultimately was diagnosed with celiac disease, which little was known about at the time. She was not getting adequate nutrients for growth.
When she was in her 20s and working as an attorney, she saw countless doctors before learning she also had Plummer-Vinson syndrome, which caused swallowing problems so she could not eat properly.
Brenda said "I wanted a life where I was not going to doctors" so she kept herself fit. She was doing well until she noticed she felt winded if she talked for a long time or walked up stairs, which she attributed to getting older.
But then her normal exercise routine felt difficult and she would gasp for air after a light elliptical workout.
Not being able to keep up with her husband Chip and daughters Martha and Nora was most concerning to Brenda.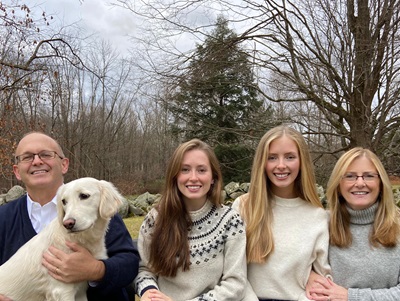 (Left to Right) Chip, Maisie, Martha, Nora and Brenda Collins

"We went to Quebec City for vacation and did a lot of walking. I was having a hard time breathing especially walking up hills," said Brenda. "It got worse when we visited Nora at college a few months later and were walking the hills of San Francisco."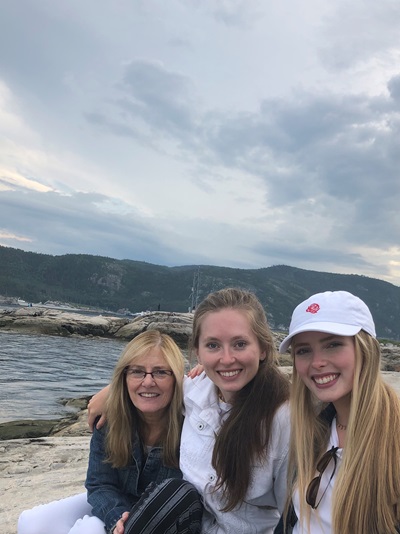 (Left to Right) Brenda, Martha and Nora Collins hiking in Quebec, Canada.
Brenda said "Hiking around this area was (literally for me) breathtaking."
Brenda's breathing started to sound raspy and progressively got louder and more pronounced.
Brenda would later learn she had stridor — noisy breathing caused by a narrowed or partially blocked airway — and was a symptom of a serious medical condition.
Brenda planned to see a doctor after seeing Nora off to college. She had a feeling something was wrong and did not want to put a damper on their last summer together before Nora moved to California.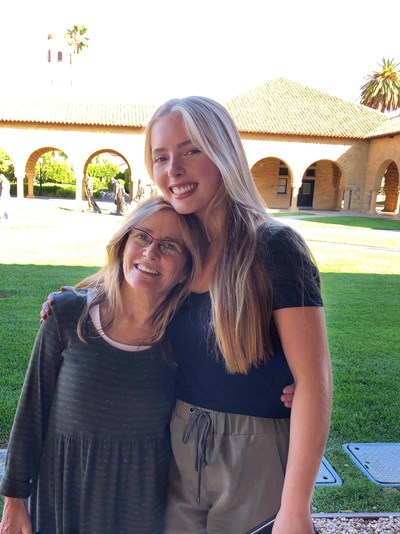 (Left to Right) Brenda and Nora Collins at Stanford University.
Brenda said, "The San Francisco hills were tough for me on this trip, but we were so excited to drop Nora off for her freshman year in college."

"I am thankful I made that decision because we had a glorious summer," said Brenda.

Brenda saw Cindy Wassmuth, a family practice physician assistant at Nuvance Health Medical Practice Ridgefield Primary Care, who recommended she have a breathing test, x-ray of her lungs and see a pulmonologist for further evaluation.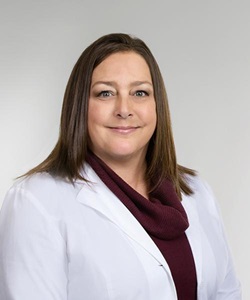 Cindy Wassmuth, Family Practice Physician Assistant, Nuvance Health Medical Practice Ridgefield Primary Care

Brenda was able to have the x-ray that same day and scheduled an appointment with fellowship-trained pulmonary and critical care medicine physician Dr. Dmitriy Golovyan in Danbury, Connecticut. Dr. Golovyan had recently joined Nuvance Health Medical Practice and Brenda was one of his first patients.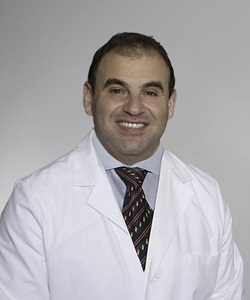 Dr. Dmitriy Golovyan, Critical Care Medicine and Pulmonology, Nuvance Health

Brenda had a spirometry, which is a lung function or breathing test. The test results indicated she likely had something obstructing her airway. In addition, the x-ray showed an obstruction in her upper airway.

"I began to worry when Dr. Golovyan said I needed to address what was wrong immediately and have a CT scan the next day."

"Dr. Golovyan called me right after I had the CT scan and said my airway looked almost completely closed," said Brenda. "He had already reviewed my CT scan with a colleague who specializes in airway conditions and he was confident he could help me."

Dr. Golovyan connected Brenda with Dr. Faiz Bhora, who had also just joined Nuvance Health Medical Practice and been there a week.

Dr. Bhora is system chief of thoracic surgery and thoracic oncology program at Nuvance Health. He is a nationally recognized, fellowship-trained thoracic surgeon who specializes in minimally invasive procedures to treat thoracic diseases and airway conditions, including lung cancer and tracheal stenosis. He has extensive experience in the endoscopic treatment of subglottic and tracheal stenosis and is a leading authority in the field.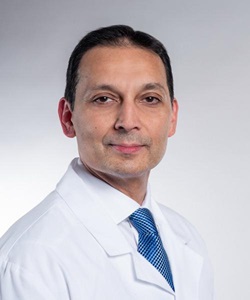 Dr. Faiz Bhora, System Chief of Thoracic Surgery and Thoracic Oncology Program, Nuvance Health

Related article: Woman has lung cancer detected and treated early thanks to routine screenings

Brenda was diagnosed with idiopathic subglottic stenosis, a rare airway disorder that causes narrowing of the upper trachea, also called the windpipe. Airway trauma or other diseases such as Wegener's Granulomatosis (also known as Granulomatosis with Polyangitis or GPA), Lupus and other connective tissue diseases can cause the benign disorder. The cause is unknown in Brenda's case.

"Brenda's airway was the size of a pea, which was causing her breathing issues and a life-threatening condition. If even a small piece of phlegm got caught in her airway the wrong way, it may have asphyxiated her," said Dr. Bhora.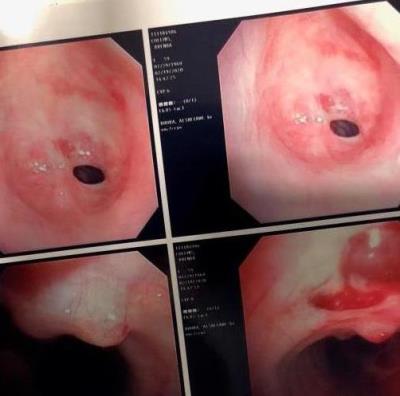 Brenda Collins' airway before spray cryotherapy was the size of a pea.

"I felt like it was a miracle how quickly I was able to see Dr. Bhora and that he had just happened to join the practice. It is funny how things work out," said Brenda.

Dr. Bhora recommend spray cryotherapy (SCT) for Brenda, which he performs at Nuvance Health's Vassar Brothers Medical Center together with Dr. Al Haitham Al Shetawi, a fellowship-trained head and neck surgeon.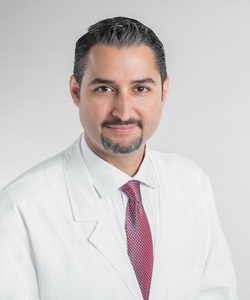 Dr. Al Haitham Al Shetawi, Head and Neck Surgery, Nuvance Health

"Collaborating with a head and neck surgeon gives the patient true multi-specialty care," said Dr. Bhora.

Using a bronchoscope — a tube with a tiny camera on the end — and catheter, Dr. Bhora sprays liquid nitrogen on diseased airway tissue to freeze and destroy it. Then, he uses a balloon to widen the airway. He views everything on a video monitor — no incisions are required.

"I felt immediately better when I woke up after the first procedure," said Brenda. "I was able to take a deep breath without a stridor and that was wonderful."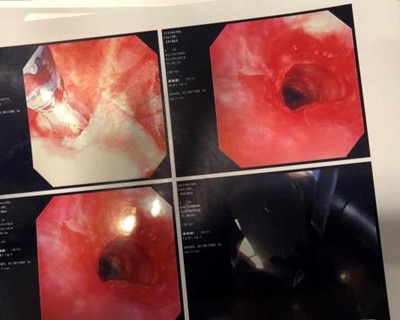 Brenda Collins' airway after spray cryotherapy.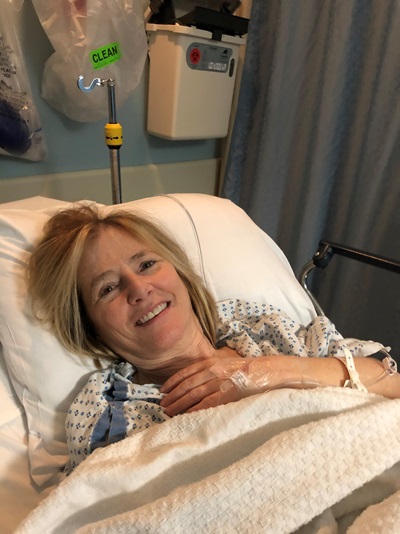 Brenda Collins recovers after her first spray cryotherapy treatment at Vassar Brothers Medical Center.
Brenda said, "I was SO happy to be able to breathe again!"


The narrowing of Brenda's airway — also called tracheal stenosis — is a chronic condition. She will likely need SCT about every six months at the beginning, and over time, she should need fewer procedures. Dr. Bhora has Brenda on a schedule to stay ahead of significant airway narrowing.

Brenda has had four SCT treatments so far.

"My breathing improves more after each procedure," said Brenda. "I notice the difference most when I exercise, which is much easier after the procedure."

Even though Brenda now has a third chronic condition to manage, she said she considers herself lucky that she has access to Dr. Bhora and SCT.

"Spray cryotherapy gives me a fighting chance to maintain a normal life," said Brenda. "Now I at least know what the problem is and how to recognize when my airway may be narrowing, like when I cough or clear my throat more."

Brenda continued, "I know from my experience with celiac disease that at first things can seem dire, but then you find out what it is, how to manage it and in some cases, medical advancements make it easier. For example, I have had about 15 endoscopies throughout my life and now they are simpler. I have a lot of faith that my airway condition will get easier to manage especially because wonderful physicians are looking into it."

In fact, Brenda contributed to tracheal stenosis research. Drs. Bhora and Al Shetawi took biopsies from Brenda for a registry to support ongoing research about the cause, early diagnosis, treatment and prognosis of airway stenosis.

"Researchers are looking down different avenues to understand airway stenosis more and I think that is great," said Brenda.

Despite having unusual health issues throughout her life, Brenda said, "Funnily, I have never felt like an unhealthy person."

Brenda's stoicism likely stems from when she was in the hospital as a child.

"I discovered the fragility of life at a young age and am grateful for every day," said Brenda.

Today, Brenda said she is "content to be living perfectly normal days and a happy, healthy life."

She loves spending time with Chip, Martha, Nora and their Goldendoodle, Maisie.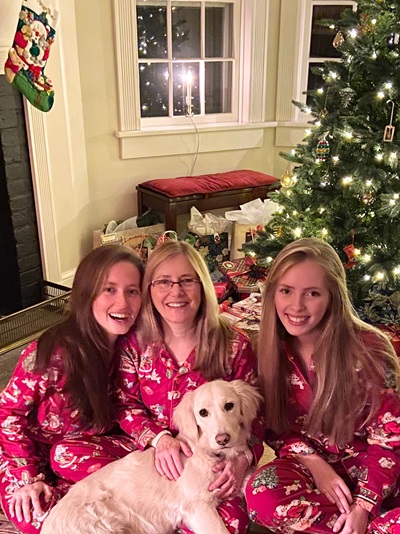 (Left to Right) Martha, Brenda, Maisie and Nora Collins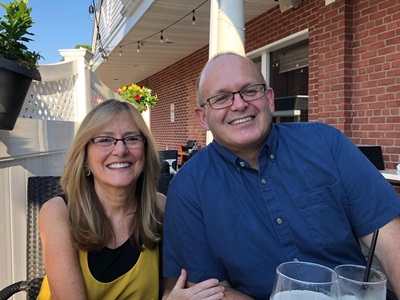 (Left to Right) Brenda and Chip Collins

Brenda later learned the type of airway disorder she has is commonly misdiagnosed as asthma or another breathing issue. She said she feels fortunate for her care team and how they astutely diagnosed her quickly.

"I am grateful to have had such a hardworking, intelligent and wonderful care team save my life and continue to help me. I think about that all the time," said Brenda.

Related article: Woman has rare cancer found by chance and removed robotically

Learn more about the Nuvance Health® Airway Center and disorders such as airway narrowing, airway trauma, tumors and inflammatory diseases of the airway.

The outcome of treatment for airway disorders varies from person to person. No individual results should be seen as typical.