Nuvance Health neurologist applies the principles of judo to his personal and professional life


Dr. Paul Wright is a medal-winning, world-class judoka with over three decades of judo experience. He shared why judo is much more than a sport for him in the following Q&A.
How long have you practiced judo?
I was always interested in martial arts, so I joined a friend who invited me to a judo class when I was 15-years old. I have practiced judo ever since.
Why do you like judo?
I like judo for many reasons. As aggressive as it may appear because it is a combat sport, judo is also gentle and brings me peace of mind. Judo is a rigorous type of exercise, which is good for the body physically and mentally.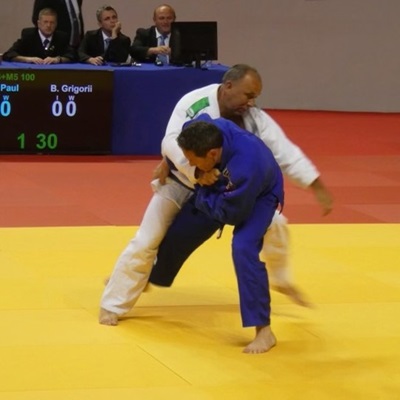 I like the competitive aspects of judo, which has given me the opportunity to travel and meet incredible people, including teammates who have won Olympic medals. I have represented the United States in international judo competitions, including the World Maccabiah Games in Israel, the World University Championships and competitions in Germany and Holland. I also had the extraordinary and unforgettable experience of training at the Kodokan Judo Institute in Japan.
I started training kids and adults when I became proficient in judo. I like coaching people, and in particular, helping them improve their mindset. This is something I have carried forward as a physician who teaches residents and for my patients to help them get better.
How do you use the principles of judo in your personal and professional life?
Judo is about continuous self-improvement and self-discipline. These values have helped me achieve goals throughout my life such as becoming a physician. I aim to instill these values in my patients to help them stay well, and I apply them every day to develop a topnotch neurology and neurosurgery program at Nuvance Health.
Admiration and respect for others are founding tenets of judo, and the collegiality of the sport is one of my favorite things. I live by these qualities and look for them in others such as when recruiting new hires so we have a positive environment for our patients and staff.
Business leaders have applied the flexibility, leverage and movement elements of judo to successful business strategies. I have learned to plan for different scenarios and prepare to pivot quickly if necessary. I look for opportunities in the strangest places where others may not look.

Will you be watching anything in particular during the 2021 summer Olympics?
In addition to judo, I like watching track and field and the triathlon, especially because I have represented the United States in international triathlons. I also follow cycling.
Dr. Paul Wright is the senior vice president and system chair of the Nuvance Health Neuroscience Institute. He is a board-certified neurologist with over 20 years of experience. Dr. Wright has extensive research experience including studying the effectiveness of novel therapies such as electroceuticals to treat neurological diseases.