In the midst of her immeasurable grief, Katie Tighe opened a toy closet in Brendan's name to provide comfort to pediatric patients and keep the spirit of her beloved son alive.
Brendan Murren was in a car accident at 3:30pm on Saturday, January 12, 2019. He was three minutes from home and a month away from his 25th birthday when he lost his life.
Getting unthinkable news about the sudden death of a child
Katie Tighe is a pediatric nurse who has devoted her life to the comfort and healing of children.
On a sunny Saturday, Katie was working at Norwalk Hospital when she got a local news alert on her mobile phone about a fatal car accident in Trumbull, Connecticut. She said she "sent a silent prayer to the person who was in the accident and their family" and then went back to work.
Katie did not know the alert was about Brendan until her younger son, daughter and ex-husband arrived at the hospital to deliver the unthinkable news.
"Brendan had FaceTimed me about an hour before the accident to tell me everything he needed to get done before going snowboarding in Colorado," remembered Katie wistfully. "He jokingly said, 'Mom, it's your fault, you told me to live life to the fullest.'"
"Now knowing it was the last time I would speak with my son, I realize it was a perfect conversation because it reinforced that Brendan really lived during his short 24-year life," said Katie.
Katie continued, "Brendan was an adventurer and jetsetter. He had many passions including exercising, skiing, snowboarding, screen printing and New Year's Eve spectacular events. He unconditionally loved his family and friends. His posse — 'the Brendan boys' — shared an irresistible zest for life."
Keeping Brendan Murren's memory alive
"Before I buried my son, I decided that Brendan's memory would never, ever fade. Our family and his friends started a manta, 'For the love of Brendan we go on' — #FLOB," said Katie. "So we started a tradition to celebrate his heavenly birthdays every February 7th."
"I am always thinking about ways to honor Brendan and keep his memory alive," said Katie.
Katie has several healing rituals, such as spending 24-minutes a day with Brendan — the number of years he lived; lighting specially made "Brendan" votive candles; having regular masses for him; creating playlists that remind her of him and listening to music he loved; and going to see his favorite band. Brendan was an "exercise freak" so Katie also now exercises regularly, including yoga, which helps her stay positive.
"Brendan constantly comes up in conversations, like 'Brendan would have liked this recipe.' My kids and I talk about him like he is in the other room," said Katie.
Katie said she has become aware of signs that Brendan is watching over her. For example, sometimes when she is feeling particularly low, her phone will ding with a text from someone saying they lit a "Brendan" candle.
"He gives me strength from above, I just know it," said Katie.
Brendan's Toy Closet
"Brendan touched so many people during his life," said Katie. "The amount of people who came to his wake and funeral was overwhelming. Friends carried his casket and 24 of them marched behind him," said Katie.

Katie wanted to continue Brendan's positive affect on others by opening Brendan's Toy Closet located in the emergency department at Norwalk Hospital.

Brendan was a screen printer and pursuing entrepreneurial goals with his company Two Hundred and Third Screen Printing Company. He created a signature logo using the numbers 2-0-3 because that was his home area code.

He planned to use the logo on apparel, such as T-shirts, sweatshirts and baseball caps. His friends extended the line to include coffee mugs, onesies for infants and winter knit hats.

"I feel fortunate that Brendan's company took off because I now have so much to remember him by," said Katie as she held the 203 necklace she wears. Brendan's friends send Katie pictures of people wearing 203 apparel and some of them even got 203 tattoos.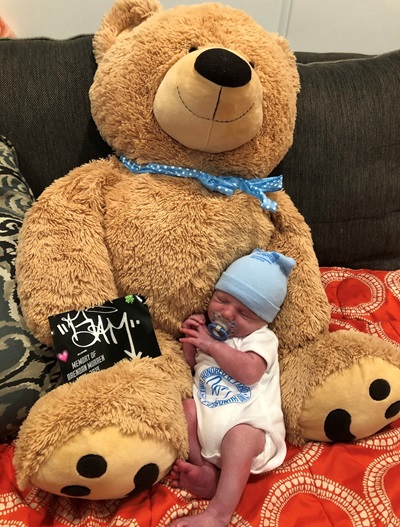 Brendan's signature logo on a onesie for infants

"A 4-year old patient selected a toy from the closet to take with her during an IV infusion, which made her day. Helping patients like the little girl somehow helps me heal because Brendan is a part of making them happy during a difficult time," said Katie.
Coping after losing a child
In addition to Brendan's Toy Closet, Katie hopes she can help others by sharing her story.

Finding ways to honor Brendan and keep his legacy of altruism, enthusiasm and living life to the fullest has helped Katie and his brother, Collin, and sister, Keira, navigate life without him.

"We have made the conscious and difficult decision to stay away from the 'what if's' because the reality is, the accident happened and Brendan died," said Katie. "We could not prevent his death or change it now, as heartbreaking as that is to admit. We can control our actions and mindsets and use Brendan's memory to keep us moving forward," said Katie.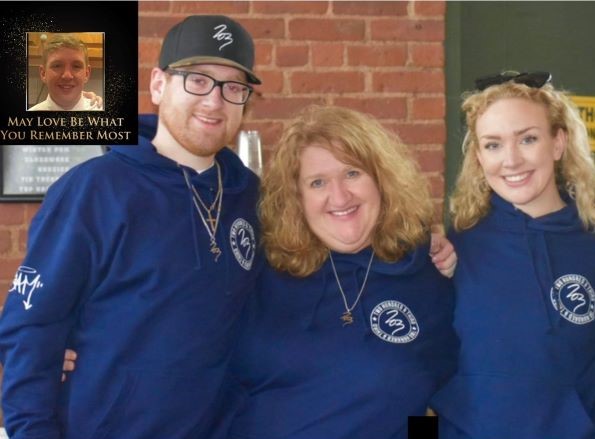 (Left to Right) Collin Murren, Katie Tighe, Keira Murren

Katie is intent on finding joy and peace as she copes with her excruciating loss. Katie started seeing a therapist soon after Brendan's death. She also stays connected with friends and attends support groups.

Recalling her first therapy visit, Katie said, "It was Valentine's Day when I first saw my therapist. She gave me a crystal heart to help with my broken heart," said Katie.

"I encourage anyone mourning the loss of a child to find support and resources from others going through the same thing, like The Compassionate Friends," said Katie. "Although we share a terrible experience, it may help knowing you are not alone."

"I honor Brendan by living a good life, being grateful for what I have and never taking anything for granted," said Katie. "I truly believe Brendan and I will reunite. So, until we meet again."