Operating rooms have come a long way since the early 1900s. As you can see in the picture on the left at Vassar Brothers Medical Center in 1913, operating rooms were often dark, cramped and unsanitary. There was no electricity, no air conditioning, and the only light came from overhead lamps and sunlight through a window. There was no concept of sterile technique. Black gloves were washed and dried on a rack and used over and over. Surgical masks did not come into use until the 1920s. Ether gas was the anesthetic in use. Surgeries were only done during the day (except for emergencies). Nothing was disposable; everything was washed and reused.

Find out more about Nuvance Health Surgical Services

In the years since 1913, there have been major advances in operating room design and technology. As you can see in the recreated photo at Vassar Brothers Medical Center in 2022, operating rooms are now brightly lit and spacious, with state-of-the-art ventilation and air filtration systems. Surgeons wear sterile gowns, caps, and masks, and all instruments are sterilized before use. As a result of these advances, the risk of infection after surgery has been greatly reduced.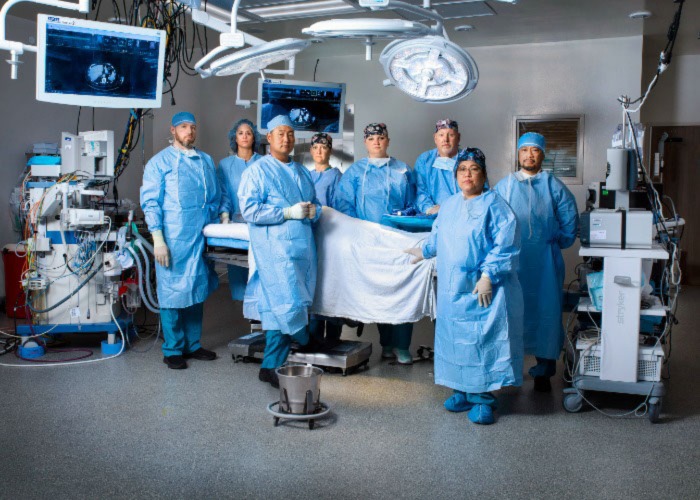 Related content:
In addition to the physical environment, the way surgery is performed has also changed dramatically since 1913. In the early 1900s, surgery was a much more invasive procedure. Surgeons often made large incisions to access the affected area, and recovery times were long. Today, many surgeries can be performed using minimally invasive techniques, such as laparoscopy and robotic surgery. These techniques allow surgeons to make smaller incisions, which results in less pain, shorter recovery times, and better cosmetic results. The diversity of the staff in today's operating rooms is readily visible as well. The advances in operating room design and technology have made surgery safer and more effective than ever before. As a result, patients are now able to undergo surgery with greater confidence and peace of mind.