Nuvance Health is one of a selected few sites in the United States enrolling participants in a study evaluating the ketogenic diet in people with advanced pancreatic cancer
Nuvance Health medical oncologists are studying the effects of a ketogenic (keto) diet in people with advanced pancreatic cancer. Nuvance Health is one of a selected few sites in the United States — and the only one in Connecticut — conducting the study and enrolling participants at Norwalk Hospital.
Medical oncologists are studying whether a keto diet can improve outcomes for participants compared to a regular diet in combination with a triplet chemotherapy regimen (nab-paclitaxel, cisplatin and gemcitabine).
The body mainly uses carbohydrates (sugars, starches and fiber), protein and fat to function. The body breaks down carbohydrates into glucose (sugar), which is the main source for energy.
The keto diet is a high fat, low-carbohydrate diet that substantially suppresses circulating insulin levels. The aim of a keto diet is for the body first to get energy from ketone bodies, a type of fuel that the liver produces from stored or dietary fat, rather than from glucose.
Pancreatic cancer relies heavily on the consumption of glucose, and an enhanced uptake of glucose supports cancer cell growth.
"A keto diet may help chemotherapy limit the growth of pancreatic cancer by reducing the available glucose supply," said Dr. Richard Frank, the principal investigator for the study and chair of cancer research for Nuvance Health.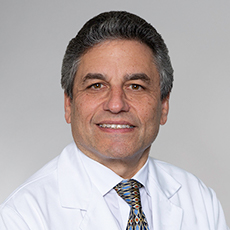 Dr. Richard Frank, Chair of Cancer Research, Nuvance Health
Study participants who are randomized to the keto diet will have monitoring to ensure they are in a state of ketosis before starting chemotherapy.
"The idea that the availability of glucose and insulin to promote pancreatic cancer growth may be modulated by diet needs to be tested, which is why we are very excited to be studying this innovative approach," said Dr. Frank.
Researchers are introducing the 36-month study sponsored by Translational Drug Development (TD2) during an informational presentation at the American Society for Clinical Oncology Gastrointestinal Cancers Symposium that is kicking off Thursday, January 20.
Individuals who are age 18 and older with advanced pancreatic cancer who have not received treatment for metastatic disease may be eligible to participate in the study at Norwalk Hospital located at 34 Maple St., Norwalk, Conn.
For more information, individuals or referring physicians can call Nuvance Health Cancer Research at (203) 739-7997 or email oncologyclinicaltrials@nuvancehealth.org.
Learn more about pancreatic cancer research at the Nuvance Health Cancer Institute.
Disclaimer: Individuals should not try a keto diet unless under the supervision of a qualified healthcare provider to ensure safety.