Researchers are studying the safety and efficacy of an investigational drug to slow Parkinson's disease symptoms from progressing.


Nuvance Health is enrolling patients in a clinical trial to evaluate the safety and efficacy of the investigational drug UCB0599 to slow disease progression in individuals with early-stage Parkinson's disease (PD). At this time, Nuvance Health is the only site in Connecticut conducting the clinical trial.
The Orchestra clinical trial (oral new chemical entity aiming to slow disease trajectory) is an 18-month study.
"Approximately 60 thousand people are diagnosed with Parkinson's disease each year in the United States and 10 million people are living with it worldwide. Finding new ways to treat Parkinson's disease is important, and clinical studies play an integral part in helping advance our understanding of the disease and how to treat it," said Dr. Robert Bonwetsch, board-certified neurologist and Principal Investigator.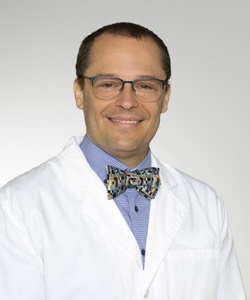 Dr. Robert Bonwetsch, Neurology
PD — the second most common neurodegenerative disease after Alzheimer's disease — is a progressive movement disorder. Symptoms include trembling of hands, arms, legs, jaw and face and poor balance and coordination. As symptoms worsen, individuals may have difficulty chewing, swallowing or speaking, talking or walking.
Individuals diagnosed with PD within the last two years in overall good health who have not received medication for PD-associated motor symptoms may be eligible for the Orchestra study.
Individuals who think they may be eligible or physicians referring their patients to the clinical trial can call (203) 739-4551 or email OfficeofClinicalTrials@NuvanceHealth.org.
The clinical trial site is located at Associated Neurologists, P.C, 69 Sand Pit Road, Suite 300, Danbury, Connecticut.
Clinical trial participants will have access to an investigational drug that is studying PD symptoms progression. Participants will also have access to care and support services for movement disorders at Nuvance Health.