Norwalk Hospital achieved American College of Radiology accreditation for meeting radiation therapy quality and patient safety criteria
The Norwalk Hospital Nancy Jones Beard Radiation Oncology Unit at the C. Anthony and Jean Whittingham Cancer Center has earned its initial American College of Radiology (ACR) accreditation. The accreditation represents that Norwalk Hospital provides the highest level of quality and patient safety in radiation oncology.

ACR accredited Norwalk Hospital's radiation oncology program for meeting specific practice guidelines and technical standards. A peer-review group of board-certified radiation oncologists and medical physicists who are experts in the field evaluated the program's patient care and treatment, patient safety, personnel qualifications, adequacy of facility equipment, quality control and assurance procedures.

ACR is a longstanding and widely accepted radiation oncology accrediting body, with over 700 accredited sites and 30 years of accreditation experience.

"ACR accreditation means that Norwalk Hospital's radiation oncology department has achieved national standards of excellence that define a high-quality radiation therapy program," said Dr. Philip Gilbo, chief of radiation oncology at Norwalk Hospital. "Our patients can trust that they are receiving appropriate and safe treatments and the latest radiation therapy at Norwalk Hospital's Whittingham Cancer Center."

Dr. Gilbo continued, "I am grateful for our team's commitment and expertise that has built an excellent program and made achieving ACR accreditation possible."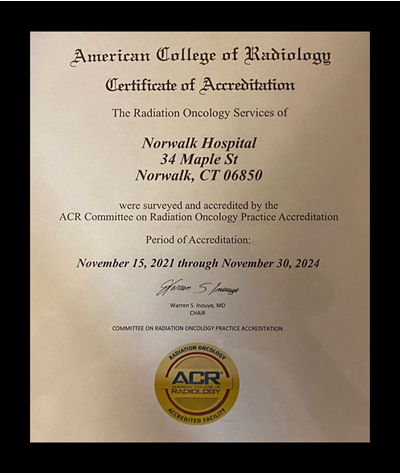 Norwalk Hospital radiation oncology program earns gold standard accreditation

Kathy Connor, chief radiation therapist at Norwalk Hospital, shared the same sentiment.
"Our team works tirelessly to provide accurate and effective radiation therapy for our patients in a comfortable and welcoming setting. I was thrilled that our radiation oncology program earned ACR accreditation because it reflects everyone's dedication to our patients," said Kathy.
Radiation oncology uses precisely focused beams of energy to eliminate cancer cells and is a fundamental part of modern cancer treatment.
Learn more about radiation therapy at Nuvance Health's Cancer Institute.