Nuvance Health is proud to have an accredited neurology residency program and teach future neurologists
It has been one year since the inaugural neurology residency program launched at Vassar Brothers Medical Center. We are shining a spotlight on the neurology residents who have committed to learning and caring for people with neurological concerns in the Hudson Valley.
Get to know Dr. Rosemary Gomes.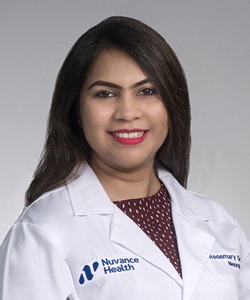 Dr. Rosemary Gomes, Neurology Resident


Where were you before your neurology residency at Vassar Brothers Medical Center?
I was born and raised in Bangladesh. I completed my medical education from Holy Family Red Crescent Medical College Hospital in Dhaka, Bangladesh. I continued my residency training in medicine at the same hospital after completing medical school.
Two years into my home-country residency, I moved to the United States as a permanent resident to reunite with my husband and in-laws. Silver Spring, Maryland became my new hometown after moving to the United States.

Why did you choose medicine as a career?
I was motivated to study medicine from growing up in a country where healthcare can be extremely challenging and there is a striking prevalence of hypertension and stroke. I always wanted to help people in a meaningful way. Being a physician is, for me, the ultimate opportunity to help others regardless of circumstances, and facilitate people leading healthy and happy lives.

Why did you choose neurology as a specialty?
As a medical student during my clinical rotations, and as a resident doctor during home-country residency, I had opportunities to manage neurological diseases based on my clinical knowledge with very limited resources. I always loved evaluating signs and symptoms and performing neurological examinations for clinical diagnosis. Even as medicine becomes more dependent on technology, the neurological exam will remain a critical component of the patient evaluation.
As a neurologist, I have the opportunity to play a central role in improving and fundamentally changing the lives of millions of people. Joining the diverse frontier of neurological discovery and treatment will allow me to create a real impact on our world.

Finally, neuroscience is one of the most rewarding fields of science.


Why did you choose Nuvance Health for your residency?
The Nuvance Health Neurology Residency Program offers a residency experience in a professional, collaborative, inclusive, diverse and innovative environment. My mentors and teachers encourage high-quality research, are committed to serving the community, and uphold the highest ethical standards for leading neuroscience.

You will be part of the Hudson Valley community for three years. What have you enjoyed so far, and what are you looking forward to most?
I love the friendly and warm-hearted people of the Hudson Valley, New York community. I also enjoy the natural and scenic beauty of the area.
I am looking forward to knowing more about the local history, culture and people, and experiencing community and local events.

What is the most important thing patients can expect from you?
Patients can expect me to deliver evidence-based treatment and patient-centered care.

How do you spend your time when you are not caring for patients?
In addition to education and work, I enjoy traveling with my husband, spending time with my family and friends, watching movies and TV shows, kayaking, swimming, cooking and trying different cuisines and restaurants.
I also love extreme sports, such as skydiving, snorkeling, parasailing and jet skiing.
Learn more about neurology services at the Nuvance Health Neuroscience Institute.