Imagine falling backwards from 12-feet high off the ground and slamming your head onto a concrete floor. Yikes, right? Michael Sternklar does not have to imagine this scary scenario because he lived it.
Falling from a ladder
Michael — a 60-year old New Yorker who recently moved to upstate New York — had a loft built in his garage for storage. Michael, who is six-feet tall, was at the top of a six-foot ladder lifting heavy items onto the loft when he fell backwards. He cracked his head against the garage floor.
Dazed but conscious, Michael remembers thinking he would just lay there until his wife, Dorene, got home. Then, he saw the blood.
Michael found the strength to crawl to his neighbor's front door, which was about 30-feet away.
"I kept telling myself, 'All I need to do is get to the doorbell.' When I got to the front door, I did a pull up on the handle to ring the bell," said Michael.
Michael's neighbor was thankfully home and sprang into action. He called 9-1-1 and put ice on Michael's head and pressure on the wound to stop the bleeding.
Michael said the ambulance ride to the hospital nearby his home in Saratoga was a blur, as was his entire hospital stay, especially because Dorene could not visit due to COVID-19 safety precautions. He later found out he had a seizure on the way to the hospital.
Michael had suffered a traumatic brain injury (TBI). He had a skull fraction and a contusion with subarachnoid hemorrhage. In other words, his brain smacked against his skull causing bruising, bleeding and swelling.
Despite the severity of the injury, Michael did not need surgery or a long hospital stay.
Declining health
After he was discharged home from the hospital, Michael said he could barely eat, drink or walk because he felt dizzy and had headaches. This was unusual for the lifetime athlete who played basketball and ran marathons.
Michael lost 13 pounds in a week and slept for four days.
"I felt like my body was shutting down," said Michael.
Concerned about Michael's declining health and limited access to the care he needed close to their home, Dorene called friends and family and many recommended neurologist Dr. Paul Wright.
Although one hour and a half away from their home, Dorene and Michael went to see Dr. Wright at Nuvance Health in Poughkeepsie, New York, where he is the senior vice president and system chair of the Neurosciences Institute.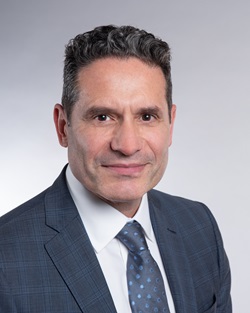 Paul Wright, MD, Senior Vice President and System Chair of the Neurosciences Institute at Nuvance Health


At that time Michael said, "I was a mess. I knew my body was in distress."
The TBI caused Michael vertigo. The dizziness caused nausea making it difficult for him to eat, drink and move. He became malnourished, dehydrated and sedentary.
Recovering
"Neurologists specialize in the brain and nervous system, but it is important to consider the whole patient," said Dr. Wright. "I knew Michael had a significant brain injury, but I was less concerned with that because I knew it would heal. He was deteriorating because he was not eating or drinking properly, his blood pressure was low and he had little energy making it difficult for him to be active."
Dr. Wright first treated Michael with fluid infusion because he was dehydrated. He then recommended anti-nausea medication so he could eat, drink and feel comfortable moving around.
"Dr. Wright was of course concerned about my head injury, but his approach to treating me as a whole person stood out to me," said Michael. "He was clear with his medical guidance, kind and respectful. He was also attentive; he followed up with me weekly even when I was back home."
Michael continued, "To this day, even though my head injury healed, Dr. Wright is still my doctor and supportive of my overall wellness."
Four weeks after the TBI, Michael went back to work as CEO of benefitexpress.
About two and a half months after the accident, Michael said, "I felt like myself again."
Michael is bike riding and lifting weights, walking and playing with his Golden Doodle, Clyde, and spending time with Dorene and his daughter, 26, and son, 24.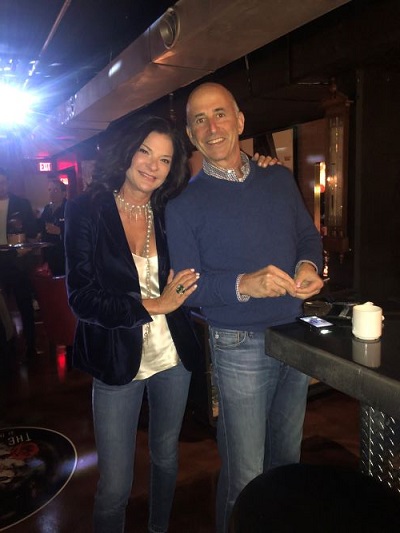 (Left to Right) Dorene and Michael


"My family was 'freaked out' by my accident. We are very grateful that I am better," said Michael.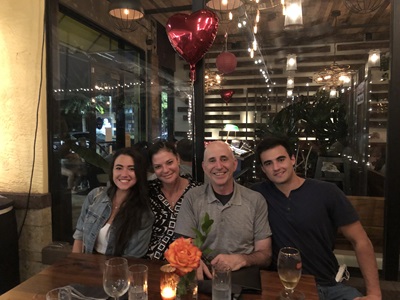 Dorene and Michael (middle) with his daughter (left) and son (right)


Michael is looking forward to the next major milestone of his recovery — driving. Individuals who had a seizure should not drive for at least a year.
Healthy living
Michael had the best possible outcome and he and Dr. Wright agree his healthy lifestyle attributed to his recovery.
"Michael really did a number on himself; he stopped the fall with his head," said Dr. Wright. "Thankfully, Michael was in good shape before the fall — he did not have any health concerns. Although he sustained a life-threatening traumatic brain injury, the rest of his body was unscathed from the fall. That and the fact he fully healed demonstrates how vital it is to live a healthy lifestyle," said Dr. Wright.
Reducing fall risk
In addition to living a healthy lifestyle — eating well, exercising, limiting alcohol and not smoking — Dr. Wright urges everyone to reduce the risk of falling. Many people are not aware of the serious ramifications from falls.
According to the U.S. Centers for Disease Control and Prevention, falls are the most common cause of traumatic brain injuries, and more than 500,000 people are treated for ladder-related injuries each year.
Further, falls are the leading cause of injury-related death among older adults, and the fall death rate has increased about 30 percent over the last decade.
"Falls are a major cause of preventable morbidity and mortality," said Dr. Wright. "It would behoove everyone — especially as we age — to be aware of ways to prevent falls, such as keeping items on lower shelves that do not require a ladder to reach, and hiring professionals to clean house gutters."
Michael agrees.
"When you are young and see a fence, you just jump over the fence. For someone like me who has been active and strong my entire life, it is difficult to balance not wanting to give into age but understanding the need to be careful. The accident got me to realize I probably need to be a little more careful," said Michael.
Disclaimer: The outcome of treatment for a traumatic brain injury will vary from person to person. No individual results should be seen as typical.

Learn more about Nuvance Health neurology and neurosurgery care.