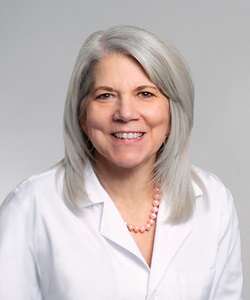 Dr. Lisa Curcio shares tips for how to live life to the fullest after overcoming cancer


The diagnosis
At 38-years old, Air Force Lieutenant Colonel Dr. Lisa D. Curcio never expected a cancer diagnosis. She was recently married, a new mom to a son and had just completed a fellowship in surgical oncology when she was diagnosed with breast cancer.
Dr. Curcio had a mammogram after she noticed blood in her breast milk.
"I knew the mammography technologists because I worked with them. I could tell by the look on their faces something was wrong after they saw my imaging results," said Dr. Curcio.
Dr. Curcio then met with a team of radiologists and had a stereotactic biopsy.
She said it was "surreal" walking her own biopsy down to pathology. She said, "I knew my life was going to change."
The results from the biopsy revealed she had early-stage, high-grade ductal carcinoma in situ (DCIS). This is the earliest possible form of breast cancer that can be diagnosed.
Q&A with Dr. Curcio
How did you feel when you were diagnosed with breast cancer?
I felt betrayed because I had dedicated years of education and training to becoming a cancer surgeon and suddenly I was the patient.
At first, I was in denial. I felt like I was having a bad dream and would wake up from it and be okay. Then, I felt angry because having cancer felt unfair. I now know that this is not an unusual reaction to a cancer diagnosis.

How did having breast cancer affect your life?
Within one year, I had several surgeries including bilateral mastectomies and breast reconstruction. During that time, I continued my denial. I completed my military commitment. I worked harder than before my cancer diagnosis to prove I was the same surgeon. I had a very demanding on-call schedule at the hospital and worked long hours.
At the time, I did not share my breast cancer experience with patients because I felt like telling them my story would give them a bias about treatment options.
Five years later, I realized I could offer patients even more by sharing my experience because I could empathize in a unique way. I also finally accepted that I had cancer and living in silence was not how I wanted to live my post-cancer life.
I decided to specialize in breast surgery and open my own practice. Having my own practice allowed me flexibility so I could spend more time with my children. I fondly remember having lunch with them every Wednesday at their grade school, something I would not have been able to do if I continued general surgery.
What common concerns do cancer survivors experience?
Cancer recurrence or treatment side effects
Many people who complete cancer treatment are concerned it will return. Some people may also feel concerned about long-term side effects from treatment.
We have developed a post-active cancer treatment program for our patients to help them take control of their health and stay ahead of these concerns. We encourage our patients to stay in touch with their care team if they have questions and to follow appropriate post-treatment screenings.
Following a healthy lifestyle is another way to take control and reduce the risk of cancer recurrence, including:
Eating a healthy diet

Exercising regularly

Maintaining a healthy body weight

Avoiding moderate-to-heavy alcohol consumption

Not smoking tobacco

Reducing stress
---
Family

Some people may worry about their family members' risk for cancer, especially if they have children.
We offer our patients genetic counseling and testing to identify cancer risk and ways to reduce it. This also allows us to identify which children need closer monitoring. Teaching children how to be proactive with their health can take the fear out of their family history of cancer.
For example, my 18-year old daughter will start mammograms when she is in her twenties. I do not have a known genetic mutation that would increase my children's risk for cancer, but she is at increased risk for breast cancer merely because I was diagnosed at a young age.
What tips do you have for cancer survivors?
Moving past the diagnosis
Some people may feel trapped by their diagnosis after overcoming cancer. Suddenly, life is not all about medical appointments and treatment. It may have been a focal point of conversations with family and friends and difficult to get beyond.
Channel the courage, hope and strength you used to overcome cancer into taking ownership of your future health. For example, commit to an exercise routine or hobby that takes your time and focus.
---
Thrivorship
No one wants cancer. Yet, having it led me to find my passion in caring for fellow breast cancer patients. Having cancer also made me realize I needed to focus on what mattered most in my life.
I share that with my patients because cancer — albeit emotionally and physically daunting — can change their life's trajectory in a positive, meaningful way if they let it. That is how someone not only survives but also thrives after cancer.
For example, spend time doing things that bring you joy and cherish time with loved ones. Talk with your care team if you need help navigating life after cancer. Through our survivorship programs, we offer support groups and resources for our patients.
The bottom line: I had breast cancer 21-years ago and I know I am stronger today because of that experience. Cancer is a journey from diagnosis to recovery and beyond. No matter what stage you are in, remember how strong you are, value your priorities and take care of yourself.
You are never alone on your cancer journey at the Nuvance Health Cancer Institute. Learn more about cancer care services including during survivorship.