Vassar Brothers collaborates with nationally recognized pediatric health system


When children need to be hospitalized, parents want only safe, high-quality care for them that is close to home.

The skilled, caring pediatric team at Vassar Brothers Medical Center wants the same. That wish will become a reality on Monday, April 4, with the grand reopening of its pediatric unit, thanks to an alliance with New York Children's Medical Providers Services, P.C., an affiliate of the nationally ranked health system, Connecticut Children's.

"Vassar is now bringing an unprecedented level of specialized pediatric and neonatology care to our community by forming an alliance with Connecticut Children's, the only health system in Connecticut dedicated exclusively to the care of children," said Peter Kelly, president of Vassar Brothers in the City of Poughkeepsie.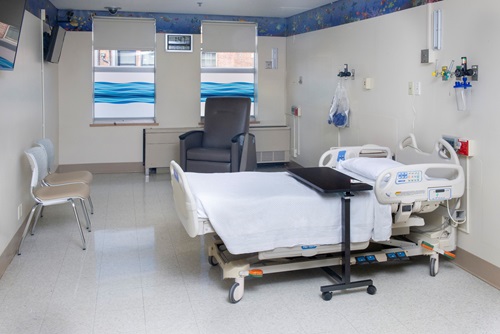 Closing the pediatric unit due to the COVID-19 pandemic allowed Vassar Brothers to take a closer look at the needs of the pediatric community. The unit now includes nine private rooms decorated in a Hudson Valley theme, including colorful fish, boats and soothing blue waves to optimize the healing environment for Vassar Brothers' pediatric patients.

Through the alliance with New York Children's Medical Providers Services, children who need to be hospitalized will be cared for by pediatric hospitalists with years of specialized training — in addition to pediatric nurses, respiratory therapists and others.

"This means your child's medical care will be supervised by doctors who are trained and experts at advanced pediatric healthcare," said Dr. Beth Natt, Connecticut Children's Regional Clinical Director and Vassar Brother Medical Center's Pediatric Medical Director. "Our team will stay connected to the most advanced innovations and therapies to get your child well."

Vassar Brothers remodeled a designated wing on the fourth floor of its legacy building with close access to the neonatal intensive care and maternity units.

Children — newborn to age 18 — can be admitted to the pediatric unit through the emergency room, where New York Children's Medical Providers Services and Vassar Brothers also offer pediatric emergency medicine. Or children can be admitted directly by their community pediatrician without being seen in the emergency department.

"The pediatric medical community is thrilled Vassar Brothers once again has inpatient pediatric services and we have a trusted partner in the care of our pediatric patients," said Dr. Marc Habert, chair of pediatrics at Vassar Brothers, who is with Children's Medical Group in Fishkill.

Respiratory illnesses, including flu and COVID-19, post-surgical care, cellulitis, severe dehydration, broken bones and infusions are some of the most common issues for which children would be admitted to the unit, which is fitted with pediatric vital sign monitoring, oxygen and tailored medication support.

The pediatric unit will adopt a family-centered care approach, which means the doctors and nurses will include parents as they round on their patients. They will also give frequent updates to parents and caregivers on health conditions. Parents or guardians are able to stay by the bedside as long as they wish.

Most importantly, pediatric patients will remain at Vassar Brothers unless a higher level of care is needed, such as a pediatric intensive care unit or PICU. If that is the case, they can be transferred to a hospital of the parents' choice and will have easy access to Connecticut Children's main campus in Hartford, Conn.

"By bringing the expertise of Connecticut Children's to the mid-Hudson Valley, we are able to have the benefits of a major pediatric health system right here in our community hospital," Kelly said.

For information, visit nuvancehealth.org/vassarkids.