Deanna Marchiselli-Flynn had major abdominal surgery to treat digestive tract cancer
Deanna Marchiselli-Flynn was just taking advantage of benefits savings by participating in Nuvance Health's wellness program for employees — or so she thought.
Routine health screening results raise a red flag
Routine bloodwork from a health screening showed Deanna's liver function was mildly elevated, which did not worry her at the time.
"I was feeling totally fine. I had no symptoms of anything," said Deanna, 56, who has worked at Danbury Hospital in various roles for 30 years.
Deanna had the bloodwork results sent to her primary care doctor, Dr. Buddhini Gurusinghe. Dr. Gurusinghe repeated the bloodwork out of an abundance of caution.
Deanna's liver function was still elevated but not as high as the initial bloodwork. Dr. Gurusinghe continued to investigate. She recommended Deanna have an abdominal ultrasound to check her bile ducts and liver.
The results showed a mild enlargement of a bile duct. Deanna then had an abdominal MRI that showed an enlarged bile and pancreatic duct and liver.
Dr. Gurusinghe recommended Deanna follow up with her longtime gastroenterologist Dr. Steven Gorelick, system chair of the Digestive Health Institute at Nuvance Health.
Dr. Steven Gorelick connected Deanna with Dr. Adam Gorelick, a gastroenterologist who has a special interest in endoscopy procedures and pancreatic cancer. He performed an endoscopic ultrasound to check further Deanna's liver and bile ducts. He found a small tumor and took a biopsy.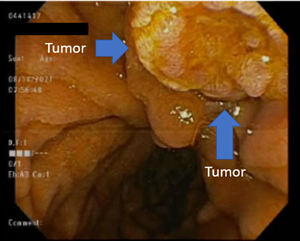 Endoscopic ultrasound revealed a small tumor

Deanna said she was "shocked" to learn she had periampullary carcinoma, a rare form of cancer. This type of cancer forms in the gastrointestinal (GI) tract near the liver and pancreas. It is usually treated the same way as pancreatic cancer.
Having major abdominal surgery called a Whipple at Danbury Hospital
Deanna saw Dr. Ramanathan Seshadri the next day at Danbury Hospital. Dr. Seshadri is a surgical oncologist who specializes in hepatobiliary and pancreatic surgery. He is also a clinical assistant professor of surgery and general surgery program director at Danbury Hospital (CT branch campus) of the Larner College of Medicine at The University of Vermont.
"Even though I have a family history of digestive cancer. I thought, 'How can this be?'" said Deanna, who has been vigilant with colonoscopy screenings for colorectal cancer and endoscopy screenings for esophageal cancer. Periampullary carcinoma is not usually found from these types of screenings because of where it is located.
Dr. Seshadri recommended Deanna have a pancreaticoduodenectomy to surgically remove the cancer. Called a Whipple, this is a complex operation that requires a highly specialized surgical team. The team included Dr. Eric Dong, chief of surgical oncology and hepatobiliary surgery for Nuvance Health in Connecticut.
"Dr. Seshadri was very straight forward and thorough. He showed me images, shared patient education resources, and walked me through the entire surgical process so I knew what to expect," said Deanna.
Related patient story: Woman overcomes advanced-stage uterine cancer after multiple surgeries and chemotherapy
"Dr. Seshadri even called me a few days before surgery to make sure I did not have more questions," said Deanna.
Deanna had genetic testing with Danielle Balavram, licensed certified genetic counselor at Nuvance Health. Genetic counseling and testing is part of the cancer care program at Nuvance Health.
"I mainly wanted genetic testing in case there was anything that might affect my boys," said Deanna.
The results were all negative for known gene mutations that might increase Deanna or her kids' risk for cancer.
Deanna felt prepared and supported going into surgery.
"I knew the nurses in the pre-op area, so it was not overwhelming for me," said Deanna.
During the Whipple, Dr. Seshadri removed part of Deanna's pancreas, small intestine, stomach and bile duct, and her entire gallbladder.
Due to COVID-19 visitation guidelines at the time, Deanna's husband could not be in the hospital with her. However, her colleague and friend Georgina Carlson was there when she woke up from surgery.
Recovering from surgery to treat digestive tract cancer
After surgery, Deanna said, "I felt like I got hit by a truck," because it was such a major abdominal surgery. However, she recovered well at Danbury Hospital for 10 days.
Deanna recovered on a unit with dedicated medical staff trained to care for Whipple patients. They promote early ambulation, nutrition, physical therapy and aim to use minimal narcotics for pain management.
"I could not have asked for a better team. Dr. Seshadri came to see me, and residents checked on me every day. I was able to get up and walk one day after surgery, and eat some solid foods a couple days after surgery," said Deanna. "Case management representatives also visited me and asked if I needed anything."
Deanna also met with Vicki Barber, registered dietitian and oncology nutrition specialist at Nuvance Health. Some people may need dietary modifications after a Whipple because foods they preferred to eat before might not be as appetizing anymore.
Deanna's husband was eventually able to visit because the visitation policy changed. And, her sons would FaceTime with her and include her beloved German Shepard.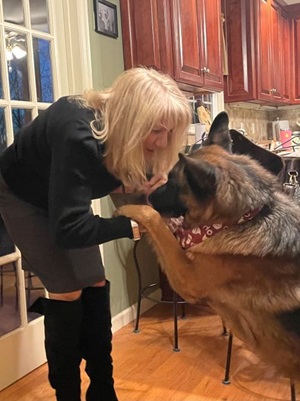 Deanna Marchiselli-Flynn with her German Shepherd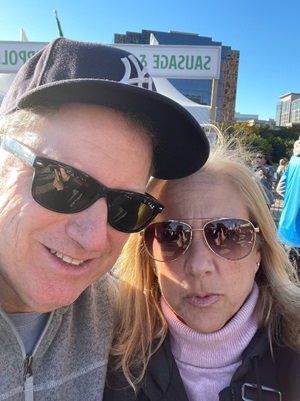 Deanna Marchiselli-Flynn with her husband


At home, Deanna said she felt fatigued.
"I had to plan out my day, for example, what to do around the house to avoid going up and down the stairs a lot," said Deanna.
She made sure to move throughout the day and walked on her deck. For the first few days, Deanna was able to eat bites of soft foods such as yogurt.
About 10 days after surgery, Deanna started to feel better while doing daily activities like showering and drying her hair.
Deanna is thankful her husband was able to drive her to and attend follow up appointments.
About five and a half weeks after surgery, Deanna returned to work. She is currently the director of clinical optimization consultant services at Nuvance Health.
Two months after surgery, Deanna hosted Thanksgiving.
Feeling grateful and strong after cancer
Today, Deanna is feeling stronger — mentally and physically — especially because she started a new barre exercise routine.
A Whipple affects the digestive system. For Deanna, certain foods bother her now, such as the smell of garlic and fried foods.
"I just need to meal plan more than I did before surgery. I can still eat most things," said Deanna.
Deanna did not need additional treatment such as medical oncology because Dr. Seshadri successfully treated the cancer surgically. She will have CT scans of her abdomen and pelvis every six months for five years and then every year.
Deanna appreciated Dr. Gurusinghe's attentive care, which she said might have saved her life.
Deanna also appreciated how her Nuvance Health care team coordinated everything for her and spoke to each other.
"Hope Walden, my GI nurse navigator, and Liz Hiravy, my clinical case coordinator, took care of everything," said Deanna.
"They made my experience seamless. Drs. Gorelick, Gorelick and Seshadri all spoke with each other regularly; I did not have to remember everything because I knew they were communicating."
Deanna said she is grateful for Drs. Seshadri and Dong and Danbury Hospital for having the expertise and specialized team to perform a Whipple.
"I was able to stay in Danbury, which is my home, and Danbury Hospital where I have worked for three decades," said Deanna.
Deanna's cancer was caught early at Stage 1. Early cancer detection is important to increase survival. Deanna considers herself lucky that her bloodwork raised a red flag and the cancer was caught early before it caused symptoms.
"I never thought anything concerning would be found from routine bloodwork," said Deanna. "For anyone reading my story, please get annual wellness exams and screenings. They just might save your life."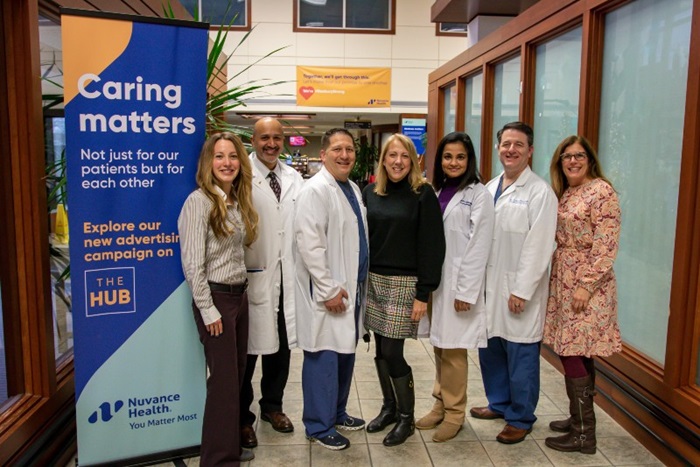 (Left to Right) Danielle Balavram, CGC; Ramanathan Seshadri, MD; Steven Gorelick, MD; Deanna Marchiselli-Flynn; Buddhini Gurusinghe, MD; Adam Gorelick, MD; Vicki Barber, RDN, CSO

Related patient story: Man with strong family history of prostate cancer overcomes it, thanks to early detection and advanced treatment
Learn more about cancer surgery at the Nuvance Health Cancer Institute.
Disclaimer: Cancer treatment outcomes vary from person to person. No individual results should be seen as typical.