High school teacher and coach with stage 4 colon cancer raises awareness about colonoscopy screenings to help save lives
John "Mango" Manganiello is a self-proclaimed "poster child for colonoscopy screenings." John is living with advanced colon cancer.
"I'm a jock. I was confident and healthy. I didn't really think about preventive healthcare. But now, I have a port in my shoulder for chemo and a colostomy bag outside my stomach," said John, a 48-year old from Newburgh, New York. "It has been a tough and humbling experience."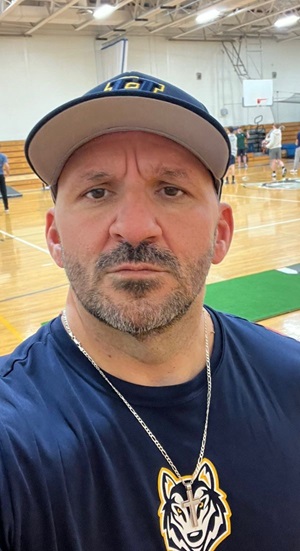 John is sharing his experience with colon cancer to encourage others to get colonoscopy screenings.

Colon cancer may not cause symptoms until it is advanced
John planned to get a colonoscopy screening when he turned 50. He knew colonoscopy screenings were recommended for people starting at age 45, but he said he "felt great" and did not think he needed a screening yet. John also has a family history of colon cancer. His dad had advanced colon cancer about six years ago. John's paternal grandma died from colon cancer.
Learn more about colonoscopies in this video: See what it's like to get a colonoscopy screening
In June 2022, John was bench pressing 315 pounds, squatting 300 pounds, and doing cardio workouts most days. He was also eating a healthy diet and not drinking alcohol.
"I was in the best shape of my life," John said.
In August, John even stuck to his exercise routine when he was in Aruba with his family.
"I woke up at 5 a.m. to exercise. I felt wonderful," John said.
But then the day before he left Aruba, John felt a cramp on the left side of his stomach that did not go away.
When John came home, he was having waves of pain on his left side. Then during lunch on the first day of school, he took a bite of his sandwich but did not feel like eating, which was very unusual.
"I thought I caught a virus in Aruba," John said.
John continued not to have an appetite and stayed in bed Labor Day Weekend.
"When I could not go to the bathroom, my wife really started to worry. She dragged me to the hospital," John said.
Related content: What are the symptoms of colorectal cancer?

Advanced colon cancer causes life-threatening gastrointestinal blockage
John's wife took him to Vassar Brothers Medical Center Emergency Department where he had imaging and tests.
"At 11 p.m. on Sunday, September 4, 2022 my life changed forever," John said.
"The consulting surgeon in the ED said I had a massive tumor in my intestine," John said.
John asked for colorectal surgeon Dr. Pranat Kumar because he was his dad's surgeon.
"The tumor was obstructing John's gastrointestinal tract," said Dr. Kumar, who is the director of the rectal cancer program at Vassar Brothers Medical Center.
"We could not perform a colonoscopy to investigate the tumor because there was a risk of perforating it," Dr. Kumar explained. "Instead, we performed surgery to relieve his symptoms from the blockage and to take a biopsy of it."
"The biopsy confirmed that John had colon cancer," Dr. Kumar said. "The cancer had spread to surrounding intra-abdominal organs, which meant John had stage 4 metastatic colon cancer."
The tumor was blocking John's gastrointestinal (GI) tract, which is why he could not go to the bathroom.
Since the cancer had spread, chemotherapy was the most urgent treatment John needed.
"We could not remove the cancer yet because it would take John a while to recover after surgery, and we could not delay chemotherapy given the extent of the cancer," Dr. Kumar said.
It was also urgent for John to be able to empty his bowel otherwise he would have life-threatening waste built up in his body.
"We performed a colostomy to divert the contents in the intestines," Dr. Kumar said.
The colon is part of the large intestine at the end of the digestive tract. A colostomy is a way for the body to remove waste from the digestive tract. During the colostomy, Dr. Kumar connected a colostomy bag to the outside of John's abdomen through a stoma.
Book Now with a Colorectal Cancer Specialist
Living with advanced colon cancer
John lost 27 pounds in about 10 days.
"I was really weak, I felt like I was dying," John said.
Despite the extreme weight loss, John recovered well after surgery and was able to start chemotherapy at the Dyson Center for Cancer Care.

Related content: What are types of colorectal cancer treatments?

John said everything hit him when he got home.
"I started to process what was happening and knew it was serious," John said. "I had a battle in my head, 'Do I live or die? Do I curl up on the couch and give up or not?'" John questioned.
"At some point, the will to live kicked in. Then I realized, I could cry and fight at the same time."
"I cried for hours because my whole life was turned upside down. In Aruba, I felt like I was on top of the world. Then suddenly, I felt like I was dying in a hospital bed," John said.
John was especially sad about possibly not being able to teach the rest of the school year. He has been a teacher for 22 years. He teaches Advanced Placement Micro and Macroeconomics, and Participation and Government at Highland High School in New York.
John is also the head varsity baseball coach, and he has coached football, basketball and softball.
"I was born to teach and coach, I love it," John said.
In fact, teaching and coaching gives John so much purpose that he was determined to get back to school.
He gained strength back by taking one day at a time and having patience.
"I started walking from tree to tree on my property. After about five weeks, I could walk the entire property," John said.
Despite the odds, John was teaching again in October.
At work, he was talking with a friend in the gym while sitting on an exercise bike. Before he knew it, John had peddled for 40 minutes.
"From that point on, I got back into my gym routine of lifting weights and cardio, and never looked back," John said. "People are perplexed that I have stage 4 cancer because I gained back the weight I lost. I have not missed a day of teaching since I came back, and I am still coaching baseball."

John is in the Hudson Valley Men's Baseball League — and so is Dr. Kumar. John played up until cancer sidelined him. Yet, he still plans to coach because he loves being on the team and the comradery, fun and friendships.
John has had more than 15 rounds of chemotherapy so far. He gets treatment every other week.
"Every day is not great because the chemo can make me sick. I lost all the hair on my body, except on my head. But I get up and fight every day," John said.
John may have surgery this summer to remove the tumor depending on how chemotherapy has treated the cancer.
Raising awareness about colonoscopy screenings to prevent colon cancer
Today, John is feeling grateful and hopeful.
"I am still here today because of my family and friends, co-workers, students and teammates," John said. "Everyone gave me a lot of support, they were like my medicine."
"My wife has given me incredible support. She took care of me every step of the way. Thank goodness for her," John said.
"I have had some of the happiest moments of my life over the last six months, whether during a trip with my wife, teaching, or simply enjoying a sunny day," John said. "I found peace and am not scared anymore."
John is determined to go to Aruba this summer without a colostomy bag. He also intends to be at the first day of school in September.
Much of his drive is because he is on a mission to help other people.
"I was a healthy, active person. But I got cancer, and it is serious. Cancer does not discriminate," John said.
"I want people to know they do not have to go through what I am going through if they get colonoscopy screenings," John said. "Even though there are no guarantees, people can increase their chances of preventing colon cancer or finding it early if they get screened."

John even hosted a baseball tournament called Strike Out Cancer to raise funds for the Dyson Center for Cancer Care at Vassar Brothers Medical Center. His efforts raised more than $11,000 for other people going through cancer.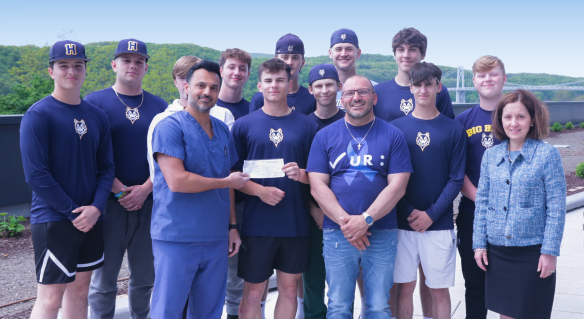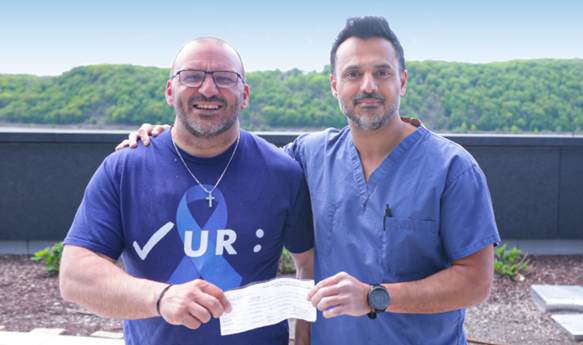 Colonoscopy screenings can prevent colorectal cancer

The United States Preventive Services Task Force (USPSTF) recommends people at average risk for colorectal cancer start having colonoscopy screenings at age 45. People who have a personal or family history of colon cancer or rectal cancer, or other risk factors may need to start screenings earlier.
Learn more about colorectal cancer screenings, prevention and risk.
Dr. Kumar is a fellowship trained and board certified colon and rectal surgeon. He specializes in treating colorectal cancers and polyps and robotic-assisted procedures. He also cares for patients with gastrointestinal conditions including Crohn's disease and ulcerative colitis. Book now with Dr. Kumar.
Disclaimer: Outcomes from cancer vary from person to person. No individual results should be seen as typical.