Teaching Academy Support
Support the Patricia A. Tietjen, MD Teaching Academy
Innovating Education Across Nuvance Health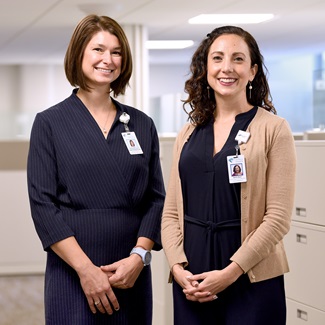 The Patricia A. Tietjen, MD Teaching Academy – now in its second year, with a total of 31 participants drawn from throughout Nuvance Health – promotes effective and innovative practices for teaching and learning. By creating a professional development community for medical education faculty, it also serves as a resource to every component of the System on issues related to educational excellence. Under the leadership of Executive Director Robyn Scatena, MD, and Director Beth West, the Tietjen Academy addresses major themes of clinical education: teaching pedagogy and best practices; embracing principles of health equity, diversity, inclusion and justice; and incorporating innovative technologies.

The Tietjen Academy is named for a remarkable doctor and brilliant teacher, Patricia A. Tietjen, who mentored so many physicians and staff during her lifetime. It embodies her dedication to education and teaching across Nuvance Health, fosters interdisciplinary education and scholarship, and supports career advancement for its educators.

Selection to the Teaching Academy is an achievement. Membership recognizes the contributions of clinical educators and connects them with similarly motivated and passionate individuals across Nuvance Health. Of last year's inaugural cohort, all scholars elected to participate in a second year. They represent a truly interdisciplinary and inter-professional cross-section of medical educators. All participants attend nine monthly sessions and present a significant educational project of their choosing to their peers and members of the Nuvance Health community.

A gift to the Tietjen Teaching Academy is an investment in educational innovation. For more information – or if you are an employee who would like to make a gift through payroll deduction – please contact the Foundation at (203) 739-7227 or foundation@nuvancehealth.org.