Welcome to your suite at Vassar Brothers Medical Center Patient Pavilion. Thank you for trusting us with your care. We are committed to keeping you safe and comfortable throughout your stay.
Stay connected
Go to device settings
Choose WiFi button
Choose Guest - VBMC
Accept Terms

To receive phone calls
Family members and friends can call you directly by dialing the number on your phone

To place local calls
Dial 9 + 7-digit phone number

To place long distance calls, use a calling card or call the operator
Dial 0 for operator assistance

To request a TTY device for the hearing impaired
Ask your nurse

If you need extra help
Your family knows you best. If they see a change in your condition, even a subtle change, it's important they pass that information on to your care team—because small things can make a big difference in your care.

Just dial 0 (within the hospital) to reach the Code HELP Team, any time of day or night. Or call (845) 454-8500 (outside the hospital) and request "Code HELP." We're here for you!

Room service and meal delivery

Our room service-style meal service is available seven days a week, from 6:30 am–7 pm. If you have an urge for something late at night, on-unit meal options or select menu options through York Street Catering are available. An associate will give you a menu that works with your diet. Order your meal by phone, and it'll be delivered to your room within 45 minutes.

Visitors are welcome to visit our cafeteria located on the first floor of the hospital. It's open Monday through Friday from 7 am to 7:30 pm and on weekends from 7 am to 6 pm. They can buy a guest tray voucher for $7 per meal in the cafeteria, order a meal through room service and have it delivered to your room. How convenient is that?

If you have any dietary restrictions or questions about your diet or meals, please ask to speak with the Food and Nutrition department.

Welcome and thank you for trusting us with your care! There is a common ground we all share - and that is the human experience. Here at Vassar Brothers Medical Center, we are committed to making it the best. During your stay, our goal is to keep you safe and to demonstrate compassion and empathy while you are on the road to wellness.


We also offer patient-to-patient-family-to-family emotional support for a wide variety of conditions, illnesses and treatment.

If at any time you need assistance advocating for yourself or a loved one, please call us at (845) 483-6011. We available Monday - Friday from 8 am - 5 pm, located at 45 Reade Place Poughkeepsie, NY 12601.

If assistance is required outside of that timeframe, please call the main number at (845) 454-8500 and ask the operator to transfer you to a house supervisor.




Christine Forman, MSN, BSN, RN
Director of Person-Centered Care Patient Experience
Bridging the gap between hospital and home
Upon admission, patients will be asked to identify a care partner who can provide help during and after their hospital stay. The care partner can be a family member, friend, or paid assistant. Learn about the importance of a care partner program.
What is the Care Partner program?

Patient care is moving steadily from hospital to community, specifically to home; preparing and supporting those non-professionals who will be providing or coordinating care in the home setting is critical.
The Care Partner program is based on assisting hospitals with implementing strategies to identify patients at risk for preventable readmissions and improve care transitions.
Evidence shows that implementation of a Care Partner program positively impacts readmission reduction, resource utilization and patient satisfaction.
The goal is for the patient to identify a person who will assist them during their hospital stay actively participating with the health care team in the patient's recovery and when the patient is discharged home continuing with a plan of care designed to keep the patient healthy and safe!

A Care Partner is someone the patient chooses to help them during and after their hospital stay.

Care Partners can be family members, friends, neighbors or paid assistants.
The Care Partner will also help us, the healthcare team, better understand the patient's needs and preferences and are allowed to participate in their medical care.
The Care Partner should be prepared to be involved in the patient's care for the entire hospital stay and be able to help with their needs at home.
The Care Partner will be informed of the patient's health progress.
They can participate in rounds and discussions with the medical team and other staff.

How do you identify the Care Partner?

Choosing a Care Partner can be a challenge for some patients. A sudden change of environment, the patient's medical condition or hospital activity can become a barrier to making this choice. If a care partner is not identified the first time a patient is asked, the patient should be asked again at different times throughout the hospitalization until a care partner is identified.


Example of scripting to assist you in finding out who the Care Partner is:




"Is there someone you can identify as a care partner while you are in the hospital and when you go home? This is the person who we will update about your care while you are in the hospital and teach along with you to understand your condition and help get you ready to go home and after you leave the hospital."
Purposeful Rounding
An important part of providing you with excellent care and service is Purposeful Rounding.

During your stay, you can expect a caregiver to:
- Check on you and your well-being
- Monitor your comfort and assess your pain
- Help you move and/or change positions
- Assist with trips to the bathroom
Your caregiver will also make sure that you have easy access to the following:
Telephone, bedside table, water or other beverages, call bell for assistance, urinal or bedpan and waste basket.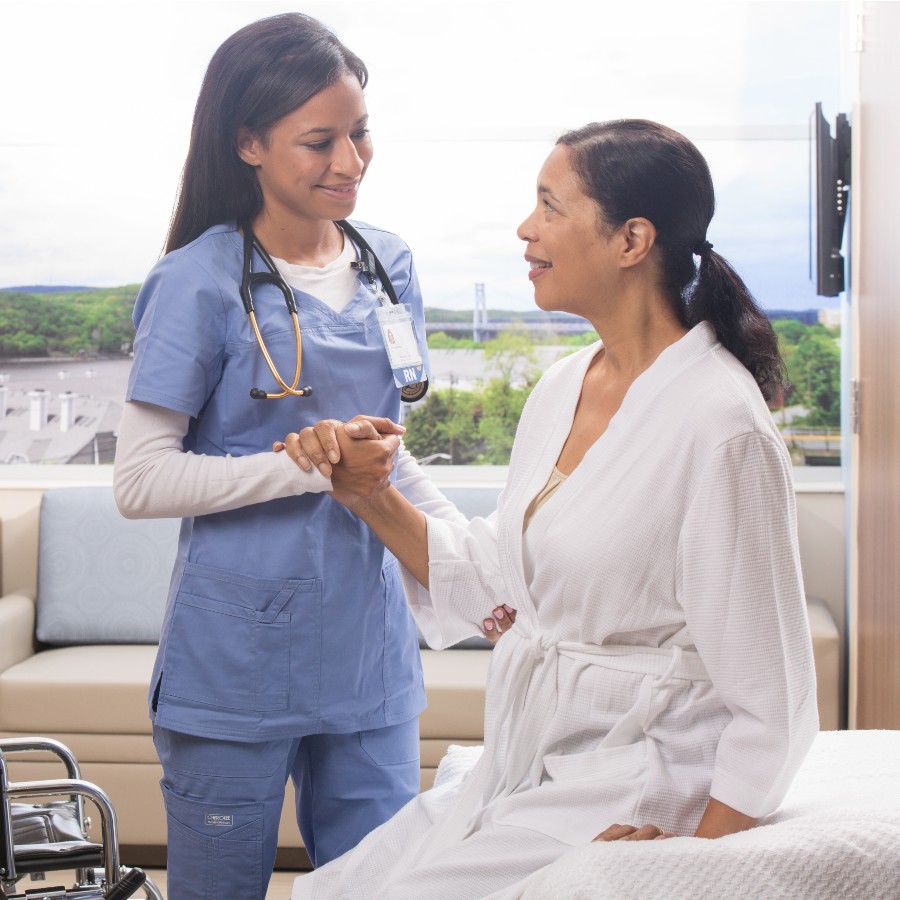 Bedside Handoff
At the beginning of each nursing shift, your care team will conduct a bedside shift report to engage you in your care process and report planning of your care.

Family members and guests are encouraged to participate as well, with your permission. While caring for you, we pledge to explain your medication and its side effects, if applicable, and address your personal needs.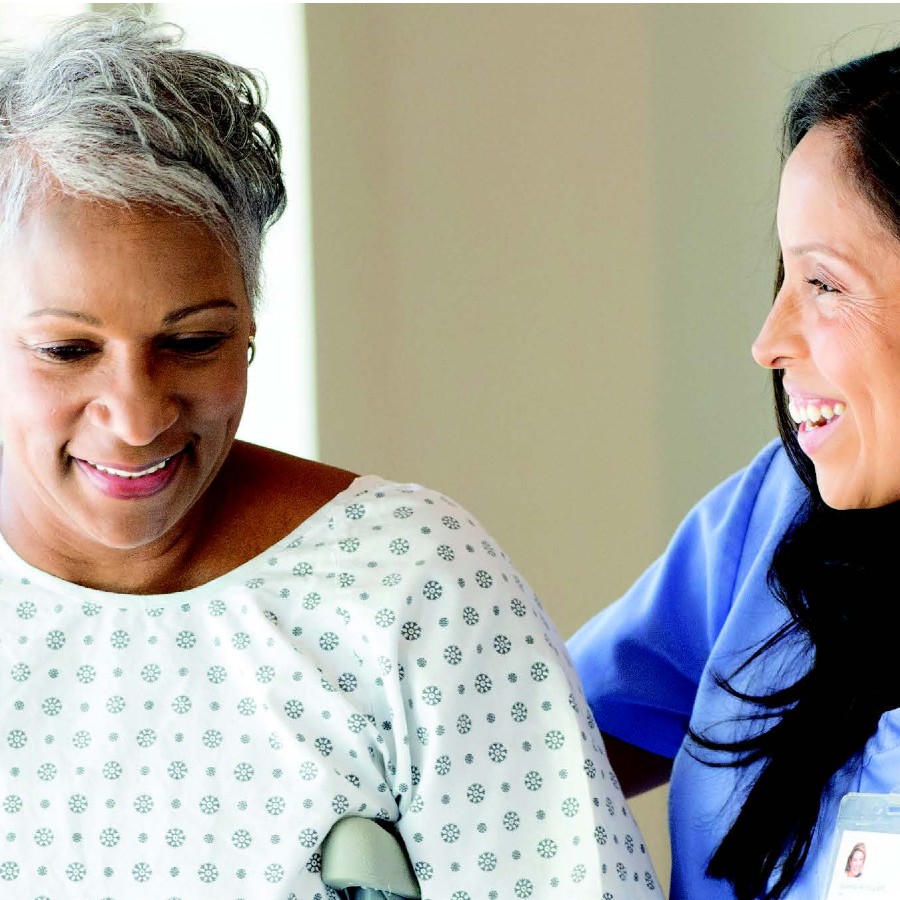 Your hospital stay
Our medical team is professional and highly trained. Yet, the most important part of our team is you. We'll work closely with you to coordinate your treatment and deliver exceptional care.

Physicians
Resident physicians
Healthcare professionals in training
Registered nurse (RN)
Patient care technician
Phlebotomist
Respiratory therapist
Physical therapist
Food and nutrition associate
Patient experience representative
Unit secretary

We want you to be comfortable during your time with us. That starts with your bed. It has electronic controls to raise or lower your feet and head. Plus, it has side rails for your protection. You'll find it's higher than your bed at home, so be sure to ask for help before getting out of it. Just press your call button or dial the unit secretary to request assistance from your nurse or patient care technician.

Television
Digital television service is yours to enjoy. Which channel shows what? Check out the channel guide below or in the folder provided in your room. If you're looking for important information about health and wellness, look for our patient education channels.




Channel

Service
2
WCBS CBS 2
3
WCBS2 Start TV
4
WNBC NBC 4
5
WNYW FOX 5
6
WNYW2 Movies
7
WABC ABC 7
8
WABC2 Localish
9
WWOR My TV 9
10
WNBC2 Cozi TV
11
WPIX CW 11
12
WPIX2 Antenna TV
13
WNET PBS 13
14
WPXN ION
15
WJLP Me TV
16
CNN
17
FOX NEWS
18
MSNBC
19
BBC WORLD NEWS
20
C-SPAN
21
HLN
22
CNBC
23
FOX BUSINESS NETWORK
24
BLOOMBERG
25
WEATHER CHANNEL
26
ACCU Weather
27
DISNEY CHANNEL
28
BOOMERANG
29
DISNEY JR
30
UNIVERSAL KIDS
31
NICK JR
32
NICKELODEON
33
CARTOON NETWORK
34
DISCOVERY FAMILY
35
NICKTOONS
36
TEENNICK
37
DISNEY XD
38
WNET2 PBS Kids
39
FOX SPORTS 1
40
FOX SPORTS 2
41
MOTORTREND
42
PAC-12 NETWORK
43
BIG TEN / BTN
44
ACC NETWORK
45
MSG
46
MSG Plus
47
SPORTSNET NY
48
ESPN
49
ESPN2
50
SEC NETWORK
51
DISCOVERY
52
HISTORY
53
FX
54
BBC AMERICA
55
SYFY
56
TRU TV
57
COMEDY CENTRAL
58
PARAMOUNT
59
TV LAND
60
FREEFORM
61
HALLMARK CHANNEL
62
NATIONAL GEOGRAPHIC
63
ANIMAL PLANET
64
SCIENCE
65
AHC
66
HGTV
67
FOOD NETWORK
68
TRAVEL CHANNEL
69
TLC
70
BRAVO
71
E!
72
LIFETIME
73
OWN
74
BET
75
OVATION TV
76
TCM
77
FXX
78
UP
79
NATIONAL GEO WILD
80
SMITHSONIAN CHANNEL
81
VICELAND
82
FYI
83
DESTINATION AMERICA
84
OXYGEN
85
WE TV
86
POP
87
GAME SHOW NETWORK
88
LOGO
89
DISCOVERY LIFE
90
BET HER
91
TV ONE
92
INSP
93
SUNDANCETV
94
LMN
95
IFC
96
HALLMARK MOVIES + MYSTERIES
97
FX MOVIE CHANNEL
98
USA Network
99
AE
100
TNT
101
TBS
102
AMC
103
INVESTIGATION DISCOVERY
104
COOKING CHANNEL
105
CNN EN ESPANOL
106
WNJU2 TeleXitos
107
WNJU Telemundo
108
WFUT UniMas
109
WXTV Univision
110
VH1
111
MTV
112
CMT
113
MTV2
114
MTV CLASSIC ROCK
115
FUSE
116
BET SOUL
117
MC 70S
118
MC 80S
119
MC 90S
120
MC CLASSIC COUNTRY
121
MC CLASSIC ROCK
122
MC COUNTRY HITS
123
MC KIDZ ONLY!
124
MC SOFT ROCK
125
MC SOLID GOLD OLD
126
MC TEEN BEATS
127
MC TODAY'S COUNTRY
128
MC TODDLER TUNES
129
MC Y2K
130
MC CONTMP CHRISTN
131
MC EASY LISTENING
132
MC JAZZ
133
MC LIGHT CLASSICAL
134
MC MEXICANA
135
MC POP LATINO
136
MC SMOOTH JAZZ
137
MC SOUNDS SEASON
138
MC SOUNDSCAPES





Newspapers, mail or deliveries

Newspapers
Want to keep up with the latest and greatest? Ask your caregiver or the unit secretary for a copy of the Poughkeepsie Journal.

Mail or deliveries
Who doesn't love receiving mail—better yet, flowers? If someone is sending you either, have them indicate your room number and use the name you're registered under (for example, Jane Smith instead of Mrs. John Smith). A volunteer will stop by your room and deliver them. If mail arrives after you've been discharged, no worries. It'll be forwarded to your home address. If you're sending out mail, just give it to your caregiver.

Need spiritual support? Someone to talk to? Sometimes, we all need a little help beyond medical care. Our professional chaplains will listen to your concerns and lend support—no matter your spiritual or religious background. Even if you have no religious preference or affiliation at all, there's always a chaplain in the hospital or on call.

The Spiritual Care Team can help if you or a family member is:

Struggling with difficult news or an unexpected diagnosis or outcome
Wrestling with difficult treatment choices, including end-of-life decisions
Reflecting on ethical issues or spiritual concerns
Seeking hope and meaning when life brings unexpected changes
Grieving or anticipating a loss and desiring emotional support
Feeling anxiety or fear and seeking a person in whom you can confide
Requesting church notification, communion, anointing, a prayer or a blessing
Wanting scripture, a prayer rug, a rosary or devotional material
Desiring particular religious or cultural support during your stay

Dial 0 (within the hospital) or call (845) 454-8500 (outside the hospital) to connect with a chaplain. Feel free to ask the nurse or unit secretary to call a chaplain. The chaplain can also contact local clergy on your behalf.

We're all for visitors

Studies show that when loved ones come to visit, it can make all the difference in the world. In fact, it can make a difference in how quickly and how well you can heal. Your loved ones are welcome to visit when it's appropriate for you, depending on your situation and needs.

Inpatient visitation is permitted for two non-changing care partner/support persons for patients up to maximum of 12 hours per day. Hours are 8am-8pm. The care partner/ support persons may be different every 24 hours, but visits should be restricted only to those essential to providing care.

Lost something? Notify your caregiver right away. We'll do our best to locate it, but keep in mind, we aren't responsible for reimbursing lost items. We encourage you to send valuables (cell phone, cash, credit cards, jewelry, etc.) home with a family member. Or ask your caregiver to contact Safety and Security about secure storage during your stay.

If you wear dentures, hearing aids and/or eyeglasses or contact lenses:

Ask your caregiver to provide a special storage container
To prevent damage or loss, please don't wrap them in tissue or put them on your food tray or in your bed
Going home
If you are discharged to go home, you will receive a call within approximately 48 hours on behalf of the Chief Nursing Officer. This call helps to ensure you are safe and comfortable, and that your next steps are moving forward as planned.
This call is for your care, and you will see "Vassar Hosp. Cares" on your caller ID. Please try to be available when we call so we can see how you are doing and answer any questions you may have. Many patients have found these calls to be helpful.
Discharge planning and case management

When it's time to go home, experienced case managers will coordinate with your care team to make sure you have all the services you need to continue your recovery. Need additional care? They'll work with you to identify any additional care you may need after discharge—including home health services, medical equipment, rehabilitation, skilled nursing care, long-term care, and palliative or hospice care. They'll also help make the necessary arrangements.

When your physician determines that your condition is stable and no longer requires an acute hospital stay, you'll be discharged. If you can't go directly home, different levels of care are available outside the hospital. Note that each of these options has specific insurance requirements and guidelines.


Your case manager will work with your insurance company to determine what services, if any, it will cover. Your insurance company makes the final decision about what it will pay. We suggest you review your insurance policy and contact your insurance company directly if you have questions about what post-hospital services may be covered.


In most cases, patients can go directly home after a hospital stay. Although some follow-up care may be necessary, we can provide it in an outpatient setting. If you need home healthcare, medical equipment or oxygen, your physician will order those services. The Case Management team will work with you and your insurance company to make the arrangements.

Medical services that require a skilled professional can often be provided at home through a certified home health agency. Common home health services include nursing, IV therapy, disease management, wound care, medication management and rehabilitation therapy services. Our

home care service

is a certified home health agency in Dutchess County. We also work closely with other certified agencies in Dutchess and surrounding counties.

If you need short-term care after an injury or extended hospitalization, your physician may recommend acute or sub-acute rehabilitation, or outpatient services.


Physical, occupational and speech therapy can be provided in a rehabilitation facility. Sub-acute rehabilitation facilities generally provide between one and two hours of therapy per day. Your case manager will help you identify at least five potential facilities, and will help coordinate approval with your insurance company. Our affiliate, The Thompson House,* is a subacute rehabilitation facility. Our Case Management team can share information on this and other sub-acute rehabilitation facilities in the Hudson Valley, including their capabilities and quality ratings.

If have are an orthopedic, stroke or trauma patient, you may benefit from acute rehabilitation, an intensive, multidisciplinary program. There are very specific admission requirements for acute rehabilitation facilities, such as being able to tolerate three hours of therapeutic services per day, at least five days per week. Northern Dutchess Hospital, part of Nuvance Health, provides an acute rehabilitation program—there are others in nearby Westchester and Rockland counties.

Outpatient rehabilitation is provided by Vassar Brothers Medical Center, Northern Dutchess Hospital and Putnam Hospital Center. We have locations in Poughkeepsie, Hyde Park, Rhinebeck, Fishkill, Pawling, Carmel, Jefferson Valley and Katonah. Services at each location vary, but include physical, occupational and speech/swallowing therapy, and specialized programs for patients with pelvic health disorders, cancer, lymphedema, balance disorders and impairments due to stroke. For information on outpatient rehabilitation, please speak with your case manager.

Patients who need long-term care that can't be provided at home may need a skilled nursing facility. These facilities offer the continued provision of care in a non-hospital setting.

If you require long-term care, your case manager will help you identify several facilities.

If you need more technically complex treatments, such as mechanical ventilation, tracheostomy care, bariatric care or dialysis, there are limited options within the Hudson Valley. Depending on availability, you may need a healthcare facility outside the area. Our case managers will work with you to identify appropriate facilities.

Palliative care and hospice

When curative care is no longer appropriate or desired, your care team may suggest palliative or hospice care. This type of care focuses on your comfort and on maintaining your quality of life.




Palliative care and hospice programs are available at some local skilled nursing facilities. Hospice care may also be provided at home or in a convalescent care setting. Your case manager will help you explore
Tell us what you think
If you've had an excellent experience with a member of your care team, let us know so we can recognize that person for a job well done. If we haven't met your expectations, we want to know that, too. We'll take your comments to heart and take actions to make your stay even better. We want to hear from you.
Have ideas on how we can improve your experience? - Consider joining our Patient Family Advisory Council

Were you recently a patient or had a loved one that was here at Vassar? Do you have some ideas on how we can make things better?


Please consider joining our PFAC Committee. We meet monthly to discuss a variety of topics and your feedback is important!


We are currently offering volunteer positions for:

Adult Volunteers
Care for the Caregiver
Student / Summer Interns
NYSBEIP (NY State Birth et al)
Pet Therapy

PACT
Music Therapy
Virtual Volunteers (for crafters and artisans!)

Have questions or interested in more information? Email: tiffany.delacruz@nuvancehealth.org





Tiffany DeLaCruz, Manager of Volunteer Service