Matt Goss had endovascular brain surgery to treat a ruptured aneurysm at Vassar Brothers Medical Center
An ordinary Saturday morning turned out to be an extraordinary afternoon for Matt Goss, a 54-year old in Poughquag, New York.
Matt was playing video games when a painful headache came out of nowhere. The pain started at the base of his skull and moved to the front of his head.
"The pain went from zero to O.M.G. in about 30-seconds," said Matt, a United States Army paratrooper veteran. "My skull felt like it was going to pop off; it was the Queen mother of headaches."
Matt took pain medication but it did not relieve the headache. When the headache persisted, his family encouraged him to go to the hospital.
Emergency medical care for severe headache
Matt went to the Putnam Hospital emergency department, where emergency medical doctors ordered a CT scan of his head. The CT scan revealed two brain aneurysms.
An aneurysm is a bulging or weakening of an artery wall. A brain aneurysm can leak or rupture and cause bleeding in the brain, called a hemorrhagic stroke. A hemorrhagic stroke is a life-threatening medical emergency because it can cause permanent brain damage or death if not treated quickly.
Matt had a thunderclap headache, a classic sign of a ruptured brain aneurysm. The team of specialists evaluating Matt from emergency medicine, neurology and endovascular neurosurgery agreed he needed a spinal tap test to confirm if a brain aneurysm had ruptured.
Related story: Woman's "terrible headache" turns out to be a life-threatening brain bleed
"Blood in the cerebrospinal fluid confirmed a brain aneurysm had ruptured and Matt needed emergency surgery," said Dr. Paul Wright, senior vice president and system chair of the Neuroscience Institute at Nuvance Health.
Next, Matt's care team needed to determine what brain aneurysm had ruptured and how to treat it.
"When there are multiple brain aneurysms, we need to know where they are located and the pattern of blood to determine which one ruptured," said Dr. Wright, who has subspecialty training in cerebrovascular diseases such as aneurysms and stroke.
Matt had an anterior communicating artery (ACA) aneurysm in the front of his brain. He also had a middle cerebral artery (MCA) aneurysm on the right side of his brain.
Dr. Elie Dancour, an endovascular surgery specialist, recommended a minimally invasive procedure to treat the ACA aneurysm that had ruptured.
"Hearing I had two brain aneurysms and one had ruptured was a shock. But I did not panic because I was still breathing, my doctors found it and they could treat it," said Matt.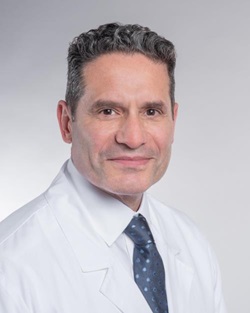 Dr. Paul Wright, Senior Vice President, System Chair, Neuroscience Institute, Nuvance Health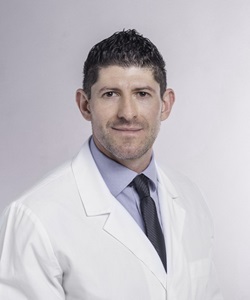 Dr. Elie Dancour, Endovascular Surgery, Nuvance Health

Surgery to treat ruptured brain aneurysm
Matt was quickly and safety transported from Putnam Hospital to nearby Vassar Brothers Medical Center, both part of Nuvance Health.
Endovascular neurosurgery specialists at Vassar Brothers Medical Center use a biplane angiography system to treat complex brain and spinal cord vascular problems. They can perform lifesaving procedures through small incisions with great precision.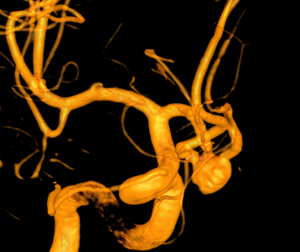 3D view of Matt's brain aneurysm from the biplane angiography system

Dr. Dancour guided a catheter over a tiny wire through the femoral artery in Matt's upper thigh to the aneurysm in his brain. He then placed a series of small platinum coils inside the dome of the aneurysm to secure it and prevent it from re-rupturing.
A second procedure was required after Matt was stable from the first one. During the second procedure, Dr. Dancour guided a stent through Matt's femoral artery to his brain and placed it across the opening of the aneurysm to keep the coil mass inside it stable.


Matt's brain aneurysm post-treatment
Matt recovered in the intensive care unit (ICU) for two weeks. He had round-the-clock care and regular checkups with Dr. Dancour and Dr. Wright.
"We followed Matt closely. So much so that when we walked into his room, Matt would start doing the exam on himself; he was primed and knew exactly what to expect," said Dr. Wright.
"The ICU doctors, nurses and staff were phenomenal — and fun! We were all cracking jokes," said Matt.
"Having a ruptured brain aneurysm and going through treatment can be a very stressful situation for someone. Humor and laughter can diffuse stress," said Dr. Wright.


Related article: Your brain on laughter: What happens in your brain when you laugh?
After going home from the hospital, Matt continued recovering from what he called a "surreal" experience.
About a month and a half later, Matt was able to resume exercising and working as a high school English teacher in the Bronx, New York.
Some brain aneurysms do not need treatment if they are small, not in a dangerous area of the brain and not causing symptoms. That is the case for Matt's smaller brain aneurysm. He will have regular CT scans and exams with Dr. Wright to monitor it; the most recent CT scan showed no changes.
Related story: Man feels "lucky" brain aneurysm was found and treated without it rupturing
What you need to know about brain aneurysms
By sharing his experience, Matt hopes he can help others know to get emergency medical help quickly if they ever experience the worst headache of their life.
Matt also shared, "Do not take anything for granted. Having an unexpected medical emergency like I did was a bit of a wakeup call."
Matt had no brain aneurysm symptoms until the sudden, terrible headache, which is common. Many people do not know they have a brain aneurysm, unless it is an incidental finding during medical imaging for something else or if it ruptures.
Brain aneurysms can happen to anyone at any age, but most commonly occur in adults between 30 to 60 years old. Risk factors for brain aneurysms include smoking, high blood pressure, and personal and family history.
Matt's grandma had brain aneurysms, but they were small and she never needed to have them treated. Matt plans to have his kids proactively tested for brain aneurysms when they are older.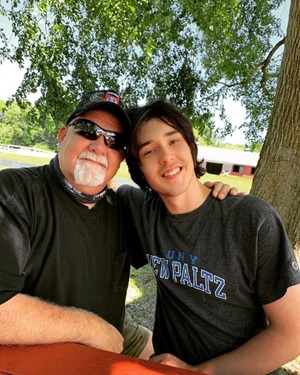 Matt Goss and his son, Markus

Large, unruptured brain aneurysms that press on nerves and tissues may cause a dilated pupil in the eye, pain above or behind the eye, numbness or weakness on one side of the face or vision changes including double vision.
A severe headache is the most telling sign of a ruptured brain aneurysm. Most people describe it as the worst headache of their life. Some people may also experience stroke symptoms or neck pain.
Related article: Should you go to the emergency department for a headache or migraine?
Nuvance Health brain aneurysm and cerebrovascular care
A team of highly trained neurosurgeons, interventional neuroradiologists and neurologists provide the latest, personalized cerebrovascular care all in one location — the Nuvance Health Neuroscience Institute at Vassar Brothers Medical Center. Subspecialists collaborate to accurately and quickly diagnose and treat cerebrovascular disorders such as aneurysms, arteriovenous malformations, Moyamoya disease and stroke. Vassar Brothers Medical Center is one of the only places in the region to offer open neurovascular surgery with neurosurgeon Dr. David Penn.
Learn more about brain aneurysm evaluation and treatment at the Nuvance Health Neuroscience Institute.
Disclaimer: Treatment and outcome for brain aneurysms varies from person to person. No individual results should be seen as typical.